Continuing Education @ CIT > Part-time & Weekend Courses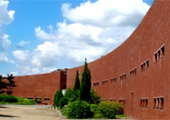 Published on: Thursday, 09 August 2012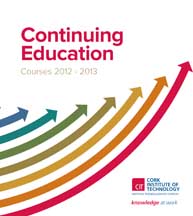 CIT's Continuing Education Prospectus (Evening & Weekend Courses) for 2012/13 covers a whole range of courses.
To receive a copy of the Continuing Education Handbook 2012/13 by post or to download a course Application Form visit www.cit.ie/parttime.
Course advice and registration
Early registration is advisable as places are limited.

Course advice and registration for Adult Evening Courses for the academic year beginning September 2012 will take place:


Faculty of Business & Humanities
(including the CCAD's Department of Media Communications)
CIT's Bishopstown Campus from 6.00pm to 8.30pm on Tuesday, 4th September 2012.

Faculties of Engineering & Science
CIT's Bishopstown Campus from 6.00pm to 8.30pm on Wednesday, 5th September 2012.



CIT Crawford College of Art & Design
CIT Crawford College of Art & Design, Sharman Crawford Street, Cork from 6.00pm to 8.30pm on Thursday 6th September, 2012.
CIT LAUNCHES NEW CONTINUING EDUCATION PROSPECTUS

On Monday 18th June, Sean Sherlock, TD Minister of State, Department of Enterprise, Jobs & Innovation and Department of Education & Skills with responsibility for Research & Innovation launched the CIT's new Continuing Education Prospectus (Evening & Weekend Courses). For CIT, Continuing Education and Continuing Professional Development are vital and growing areas of the total education provision and Lifelong learners are an essential part of the Institution.
CIT has many opportunities for those wishing to return to education in all disciplines - Business and Accounting, Computing, Engineering, Science, Humanities, Art, Media, Music and the Maritime area, as well as Springboard Programmes and customised and in-company training.
CIT has a varied part-time and evening programme, one of the largest at third level in the country and provides an extensive range of courses with flexible modes of delivery that will allow the learner to continue the process of lifelong learning. It offers the full range of Higher Education qualifications, including Higher Certificates, Bachelor Degrees and Honours Bachelor Degrees, as well as Masters and PhD Degrees.
| | |
| --- | --- |
| Photo: Pascal Ungerer | Director of Business EMEA Daragh King, Chairman of the CIT Governing Body Bob Savage, Minister of State, Sean Sherlock TD., and CIT President Dr Brendan Murphy pictured at the launch of the CIT Continuing Education Prospectus. |
CIT provides a comprehensive and relevant suite of courses for the adult learners. The courses are designed to provide greater opportunities to those seeking employment and additional security for those in employment; Education and training in order to keep up with the rapid changes in society, the workplace and technology; Continuing Professional Development and up- skilling for those with qualifications which need additional learning and new skills.
Speaking at the launch of CIT's Continuing Education Prospectus, CIT President, Dr Brendan Murphy said, "Continuing Education and Continuing Professional Development are a major part of the strategic role that CIT plays in this region. Of our 16,000 plus registrations, almost 6,200 are full-time 3rd and 4th level, 3,000 hospitality and engineering craft students and 7,600 Continuing Education and CPD."
According to Don Crowley, Head of Department of Continuing Education, "CIT's Continuing Education Programme offers every incentive to participants through: Recognition of Prior Learning; accumulation of credits (ACCS) which supports flexible learning and the Incremental Approach (Ladder system) which acts as a motivation to progress further on the National Framework of Qualifications".

Gerard O'Donovan, Head of School of Business, says: "Mature students perform very well at CIT because of small class sizes and the support of Lecturers and our student-focused approach to learning. In many areas, students commence a Level 6, Higher Certificate programme and can progress right through to Level 7 Degree, Level 8 Honours Degree, Level 9 Masters and professional qualifications, and Level 10 Doctorate. Professional Accountancy programmes are also available in CIT for examinations of Chartered Accountants Ireland, CPA, ACCA, CIMA and Accounting Technicians Ireland."
The Centre for Advanced Manufacturing and Management Systems (CAMMS) is part of CIT's Manufacturing, Mechanical, and Biomedical Engineering Departments and uses the in-house expertise in these Departments to offer educational and problem-solving services to industry. The Centre has a proven track record in the development and delivery of single subject awards, minor awards, and major awards.
CAMMS has developed themes of programmes in the areas of Control and Automation, Sustainable Energy, Project Management, Quality/Manufacturing/Lean Six Sigma and Biomedical Engineering. The centre uses a combination of external consultants and in-house lecturers to provide a broad scope of industrial and academic expertise. According to manager Paul Keane, "The synergies from using such an arrangement allows for industrial focused education whilst also retaining an emphasis on the underlying academic theories".
CIT also offers opportunities for mature students who wish to study full time. Recognising that returning to education full time for mature students can be a daunting step, there are a range of supports provided through the CIT Access Service to facilitate and ease the transition for mature students. Deirdre Creedon, Access Officer, says that CIT strongly encourages applications from mature candidates and is continually working towards wider entry routes in order to increase participation of adult learners. "We recognise that that Mature Students bring with them their life experiences along with determination and focus, all of which are conducive to successful learning." CIT has a full time Mature Student Officer who provides pre-entry and post entry supports for Mature learners.