Event: Careers & Employability Fair 2012
Tuesday, 02 October 2012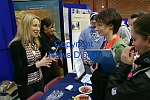 There are options for the future and this event will help you in deciding what to do next!
Date: Tuesday, 2nd October, 2012
Time: 11am – 2.30pm
Location: Nexus Hall, Student Centre, Bishopstown Campus

Click here to download last year's Careers Fair news


What will you see at the Fair?
EMPLOYERS – Find out about jobs & future opportunities.
DEDICATED EMPLOYABILITY CLINIC – Get advice on enhancing your Employability Skills & preparing for the world of work.
CIT POSTGRADUATE OPTIONS – Check out further study options in CIT.
VOLUNTEERING OPTIONS – Look at voluntary work in Ireland & abroad.
TRAVEL INFORMATION – Pick up information on spending the summer abroad or taking a year out after college.
Enquiries to CIT Careers & Counselling Service on (021) 4335772.