Art Exhibitions > until the 23rd July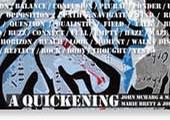 Published on: Sunday, 20 June 2010
CIT Crawford College of Art & Design's new exhibition space at Wandesford Quay, Cork.

---
'A Quickening'
Show runs from 6 - 23 July
Open daily Wednesday to Saturday 10am – 5pm
Installation & Exhibition by
John McHarg & Marie Brett
Marie Brett & John McHarg
---

FINE ART MA by RESEARCH EXHIBITION
19th June - 1st July (excl Sunday) | 10am - 6pm
Showcasing works by:
Roseanne Lynch
Liz Cullinane
Mags Geaney
Please click here to download brochure.
---
2010 CIT CRAWFORD DEGREE SHOW
19 - 26th June | 10am - 4.30pm

"Fractals", the 18th Annual CIT Crawford College of Art and Design Degree Show for BA (Honours) Degree students, was officially launched at the College, Sharman Crawford Street, Cork, by sculptor Vivienne Roche, on Friday 18th June. The exhibition is free, and open to the public, from 19th - 26th June. A highlight of the midsummer exhibition calendar in Cork, it will feature work from 52 students across a broad range of disciplines.
Last year, CIT CCAD celebrated thirty years of its presence at the Sharman Crawford Street building after it had been moved from its previous headquarters at Emmet Place (today's Crawford Municipal Art Gallery). This year also marks the twentieth anniversary of the establishment of the Bachelor of Fine Art programme in CIT CCAD, which replaced the old National Diploma award.
The final year Degree Show is traditionally viewed by the College, as well as by the broader community of Cork, as an occasion for celebration. After four years of intense study, fifty-two graduating students will invite the public to witness their professional transformation. They come from seven different countries and from many parts of Ireland, contributing to the College's reputation on the national and international art scene.
The exhibition gives a panorama of artistic concepts and approaches which are being executed in a wide range of different media. A long tradition of 'painting' and 'sculpting' excellence seems to be opening more and more to 'new media', as almost half of this year's students are choosing to express themselves in a less traditional way.
In general, the common multi-disciplinary approaches among CCAD students seem to embody the College's unwritten policy of an open, department-free environment where one is not obliged to choose between the disciplines. Many of the present graduates do not fit easily into any of the formal, or even, conceptual categories.
This approach in turn contributes to this year's unofficial patron – science. In a remote yet meaningful way 'Fractals' as a chosen name for this show commemorates the original plans of the Crawford's founding fathers one hundred years ago, who intended their new educational centre in Cork to marry science and art under one roof, as the Crawford Municipal Technical School.
Only time will tell whose voice from the graduating group will be heard at future celebrations, among those of renowned past students: Vivienne Roche, Eilis O'Connell, Alice Maher, Billy Foley and others.
---