Opportunity in Chemical Engineering for graduates of Engineering and Science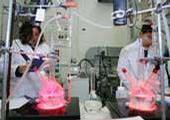 Published on: Thursday, 02 September 2010
The Department of Chemical & Process Engineering is offering an opportunity to graduates of engineering and science to obtain an internationally recognised qualification in Chemical & Biopharmaceutical Engineering in just 20 months.



With nine of the top ten global pharmaceutical companies located in Ireland, Ireland's pharmaceutical industry continues to develop and grow and offers excellent employment opportunities for graduates of Chemical & Biopharmaceutical Engineering. One only has to look to the figures to see how integral the sector is to Irelands continued economic recovery.

According to the IDA, in 2009 Irish based pharmaceutical companies:

· spent €350 million on various capital projects;

· produced ten of the world's top selling drugs;

· exported products to the value of €44.17 billion, representing 51.2% of the nations exports;

· contributed more than €1 billion in corporation tax to the Irish exchequer;

· provided direct employment to 24,000 with upwards of 24,500 jobs supported by the provision of services to the sector.
The Department of Chemical & Process Engineering has been to the forefront of Chemical Engineering education for over thirty years and today maintains a very strong employment record for graduates in Biopharmaceuticals, Pharmaceuticals, Energy & Environment and Food as well as Oil & Gas, Design Consultancy, Financial Consultancy and Minerals.

The Department of Chemical & Process Engineering's Qualification Programme culminates in diverse and internationally recognised qualification which will strategically position graduates to obtain employment in Ireland's most vibrant industrial sector.



> Are you seeking employment in Ireland's most vibrant industrial sector?
> Are you interested in upgrading your skill set?
> Would you like to obtain an internationally recognised qualification in Chemical & Biopharmaceutical Engineering in only 20 months?
> Have you considered the Department of Chemical & Process Engineering's qualification programme?

For further details contact

Ian O'Sullivan
E: chemeng@cit.ie
T: 021 432 6607
W: http://chemeng.cit.ie/qual/