Cork County and City Enterprise Boards CIT Prize for Innovation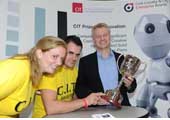 Published on: Monday, 18 October 2010
Do you have a good idea for a product or service that may have commercial potential?
Do you want something great for your CV?
Do you want to really stand out when you are going for that dream job?
If you have answered "yes" to any of the above questions then this is the competition for you! Please click here for detailed information.