Fine Art Students' Fort Camden Photographic Exhibition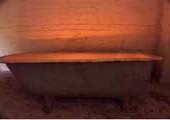 Published on: Sunday, 09 January 2011
The Exhibition runs until the 21st January 2011 from 9.00am - 5.30pm, Monday to Friday.
"Ducking Paddy" is an exhibition of photographic work made by 3rd year Fine Art students from CIT Crawford College of Art & Design. The work is the result of a 6 week residency programme with Cork based artists Sinéad Keily and Roseanne Lynch, in collaboration with Cork County Council, Fort Camden, Rescue Camden and Crosshaven Tourism.
Fort Camden in Crosshaven in County Cork is a 19th century fortification occupied by British military until July 1938 when it was officially handed over to the Irish Defence Forces.
This project completes a circle from the initial requests from the community of Crosshaven to Cork County Council for help to restore Fort Camden, and the County Manager's call to artists to come and respond to the site.
Following an historical tour of the site, including areas usually off limits to the general public, the enthusiastic members of Camden Rescue inspired the students with the engineering feat that is Fort Camden, and stories of what life was like for the army and civilian inhabitants of the fort.
"Ducking Paddy", the title of the exhibition, comes from the time in Fort Camden's more recent history, when the army had left and the caretaker, Paddy, and his family were the only inhabitants of the Fort. The term was coined as locals attempted to get into the site but to avoid being caught, they had to "duck Paddy".
The students photographed onsite, using a range of cameras from 50 year- old fold out and plastic lensed cameras, large format 5"x4" sheet film cameras, to the latest digital cameras.
Further details can be obtained from
Roseanne Lynch M: 086 3427 904 or
E: roseannelynch@eircom.net
---------------------------------------------------------
Sinéad Keily M: 087 265 8631 or
E: sandbkeily@eircom.net
---------------------------------------------------------
Paul Brierley, Rescue Camden
M: 087 9672 100 or E: rescuecamden@live.ie
---------------------------------------------------------
Trish Brennan, photography lecturer at CCAD
E: trish.brennan@cit.ie