Event: 'Patrick' - A ground-breaking, multi-media re-imagining of the classic Patrick tale
Friday, 18 March 2011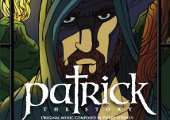 'Patrick' - A ground-breaking, multi-media re-imagining of the classic Patrick tale will receive its premiere at CIT Cork School of Music 18th/19th March 2011 Tickets 15/10 euro.
Composed by Pierre O'Reilly, the performance will combine the talents of Academy Award-nominated animator, Nicky Phelan, renowned soprano, Cara O'Sullivan, The Artists Factory and a 90-strong orchestra and choir.
Click here to view the poster.
Visit www.patrickthestory.com