CIT honours Chinese Laureate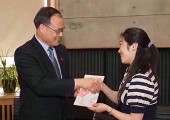 Published on: Thursday, 06 May 2010
On Friday 7th May, Dr Brendan Murphy, President, CIT, hosted at a reception to honour Ms Xiao Fang Zhang, CIT's PhD Student, who was a recipient of a European Laureate for Innovation for her work on the development of a Bubble Extractor for Intravenous Infusion at Innovact 2010. The Chinese Ambassador to Ireland, His Excellency, Liu Biwei, was present to see his countrywoman honoured.

Ms Xiao, from Dalian City, in China, has been a student at CIT since 2004 and graduated with a BEng Honours in Mechanical Engineering.

The occasion also saw the Launch of CIT's Promotional Video "Postcard from the Edge" (designed by Raven Design , Cork) which is aimed to attract Chinese Students to study at CIT (please click on the image below).