DARE
Disability Access Route to Education Scheme
CIT is part of the DARE (Disability Access Route to Education) national admissions scheme which can allocate reduced points places to eligible school leavers under 23 years old with learning differences, health conditions and disabilities.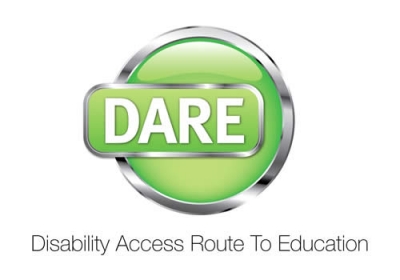 CIT is committed to helping such students to avail of its courses. Before choosing a course, applicants should contact the relevant department to discuss the demands of the course and check any minimum entry requirements of each course such as levels of Maths and number of Honours subjects required and any other requirements of a particular course such as a portfolio or interview - details are available in the CIT prospectus or at: www.cit.ie/courses
Applying for DARE
For information about the process of applying to DARE including the deadlines and criteria, please check the Access College website: www.accesscollege.ie
We would encourage all applicants with learning differences/health conditions/ disabilities who apply through the CAO to indicate and give details of your learning difference/health condition/ disability. Giving this information is confidential and will not adversely affect your application in any way.
How are CIT DARE Offers made?
DARE applicants are informed by letter at the end of June if they are eligible or not for the DARE scheme. Full details of a recheck process are available on the DARE website: www.accesscollege.ie. If you are eligible for DARE you will then be considered for a DARE reduced points place under certain criteria.
To be considered for a DARE reduced points place, applicants must meet the minimum requirements of a course. Applicants are then considered for places when they are within a 50 point band below the cut off point at the time when the DARE offers are made through the CAO. Students with sensory disabilities (such as visual or hearing impairments) and students with physical disabilities will be prioritised when allocating DARE places.
DARE reduced points and merit offers are made through CAO and are in round 1 and sometimes in round 2 if there are places still available. If you get a DARE reduced points offer this will appear as a regular offer online through the CAO. You will then receive a letter to inform you that you have received a DARE offer and that if you accept the place you must register fully with the Disability Support Service and attend the DSS Orientation as these are part of the conditions of the DARE offer.
What DARE places are available in CIT?
CIT has a guideline quota of 5% of reduced points DARE places on all first year undergraduate programmes.
To see the guideline number of places available on each individual course in CIT, please download this document:
2017 CIT DARE reduced points places by course (PDF)
Can I still get supports in CIT even if I am not eligible for DARE?
It is important to note that DARE is an admissions scheme and students may be eligible for supports even if they are not eligible for DARE.
We recommend that those students who are eligible for DARE and get enough points for their course should still register with the Disability Support Service (DSS).
Please note if students declare themselves through the CAO that they have a learning difference, health condition or disability, they must still register fully with the DSS in order to get supports if they come to CIT.
More information about the DSS support and registering for supports is available in our Student Guide : studentlife/access_disability/disabilities/registering-with-the-disabilit/dss-student-guide
DARE Information and Contacts
Please call the CAO helpdesk for information about your application on 091 509800
For specific CIT DARE/DSS queries, email is recommended especially due to the high volume of queries in August/September/October. A member of the DSS staff will respond as soon as possible.
Email: dare@cit.ie
If you call the DSS about your DARE query please make sure you are able to give us your name, date of birth and CAO number - 021 433 5107/ 5137
DARE Clinics
Every year the Disability Support Service organises information evenings on the DARE application process.
There will be a DARE/ CIT DSS supports talk at the CIT CAO Applicant Information Evening Thursday 4th May 2017 in the CIT Nexus, Student Centre, CITBishopstown - please see cao for more details of the event. The DARE/DSS talk will take place between 6 and 8pm - no booking necessary.
CIT DARE clinic - Tuesday 8th November 2016 6.30-8.00pm - CIT Bishopstown. Book your place by emailing emily.clifford@cit.ie
DSS /DARE Information stand at CIT Open day - Friday 18th November 2016 10am - 3pm - CIT STudent Centre Bishopstown
CIT DARE clinic -Tuesday 6th December 2016 6.30-8.00pm - CIT Bishopstown. Book your place by emailing emily.clifford@cit.ie
CIT will be at the DARE/HEAR National Clinic @ Student Centre, UCC -Saturday 21st January 2017 10am - 2pm
Please sign up to our mailing list to be alerted on the CIT DARE Clinics running every year.