EPA publishes Industrial Applications of Membrane Technology in Ireland: A Review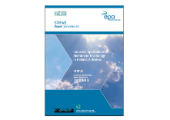 Published on: Friday, 08 April 2011
A detailed study has been undertaken by the Department's National Centre on Membrane Technology of synthetic membrane separation technology application and research in Ireland. This report highlights existing trends and compares the current status of membrane technology in Ireland with international norms.
Membrane separation processes are used widely in industrial, laboratory, medical and research applications to purify, concentrate, sterilise or separate streams or samples. They can provide an efficient and reliable solution for critical separation challenges and have demonstrated superior performance across a broad range of applications, versus alternative technologies.
The complete report may be accessed on the EPA website, click here.