Pfizer Ringaskiddy host class visit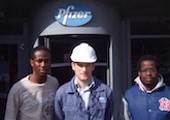 Published on: Tuesday, 12 April 2011
Lanry Oki, John Cremin (Chem Eng class of 2006) and Dougmore Moyo are featured in the photograph.
John graduated with a BE in Chemical Engineering from CIT in 2006. John is currently working on shift as technical support to production, solving day to day technical and quality issues. Lanry and Dougmore are first year chemcial engineering students.
The class visited the OSP4 production plant where sildenafil citrate (Viagra) and other pharmaceuticals are manufactured. Equipment and facilities including reactors, crystallisers, pumps, condensers, filters and dryers were shown. Tank farms, cooling towers and distillation columns and a thermal oxidizer were also seen by the students.