Rachel Woodward presents at FRESH seminar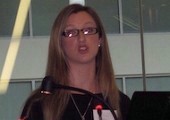 Published on: Saturday, 08 October 2011
Rachel Woodward presented some of the findings from her recent thesis: "Materal and energy flow analysis of the Irish construction sector" at the 4th International FRESH seminar on Good Practice Transfer: Sustainable Construction Standards in Cork on 5th October 2011. The FRESH project is an EU project, funded by INTERREG IVC, to strengthen Sustainable Value Creation (SVC) - based development at the regional level. The purpose of this seminar was to facilitate good practice transfer within the FRESH partnership, and focused on FRESH identified Good Practice 6, "Code for Sustainable Homes" and Good Practice 8, "BREEAM".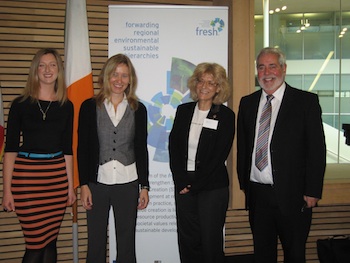 Shown in the image (L to R) are: Rachel Woodward, Dept of Chemical & Process Engineering and Clean Technology Centre, CIT, Ms. Tuula Loikkanen, Head of the EU South-Finland EU-Office, Ms. Ninetta Chaniotou, Director for international co-operation projects, Kainuun Etu Finland, and Mr. Eoghan Allen, South West Regional Authority, Ireland.
Further details on the project and access to the reports on the Good Practices are available on www.freshproject.eu
Presentations from the seminar are available here.