Abbott Intern Bursary awarded to Marlene Clark in chemical engineering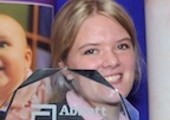 Published on: Saturday, 15 October 2011
Marlene Clark from Rylane, and John Caplice from Mallow, were chosen from a group of 30 students from third level institutions across Ireland who had undertaken internships with Abbott Ireland and were presented with a €1,000 bursary each. Patrice Bohan, Senior Talent Acquisition Manager, Abbott Ireland said that Marlene and John had been selected for the inaugural bursary for "Exceeding the expectations of their respective roles, and making a strong contribution to Abbott."
Marlene, who is studying chemical engineering spent six months in Abbott Ireland's pharmaceutical facility in Sligo, while John, who is studying mechanical engineering in CIT, spent six months working with Abbott Ireland's vascular facility in Clonmel.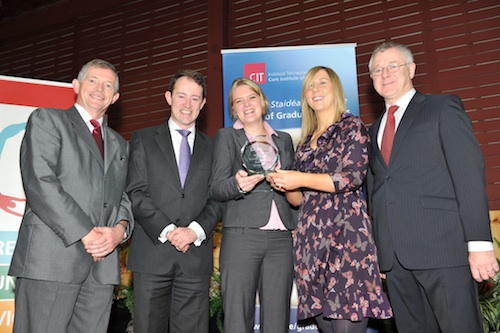 Pictured, left to right, are: Dr. Eamonn Cashell, Head of Graduate Studies; Minister of State at the Department of Education and Skills, Sean Sherlock T.D.; Ms. Marlene Clark; Ms. Elaine Fennessy, Talent Acquisition Specialist, Abbott Ireland; Dr. Barry O'Connor, Vice President for Academic Affairs.
Abbott launched a formal internship programme three years ago to provide undergraduates with 'hands on' experience at one of Abbott's 14 facilities throughout Ireland. The programme provides participants with practical assignments and is open to candidates from a variety of disciplines including science, engineering, human resources, information technology, finance and supply chain management. To date more than 90 candidates have participated in the programme.
"Abbott is committed to advancing science and health. Through our internship programme, we help to build the talent pipeline for Abbott and for Ireland. It is a great way for students to understand the demands and opportunities of working for a global health care company," said Patrice Bohan.
"The Abbott Ireland Internship Bursary Award recognises the excellent work of our interns and acknowledges the interns we believe have excelled while working with Abbott. It is testament to Cork Institute of Technology that we are presenting not one but two bursaries to CIT students. Both John and Marlene have very promising careers ahead of them and we wish them well in their chosen endeavours," she added.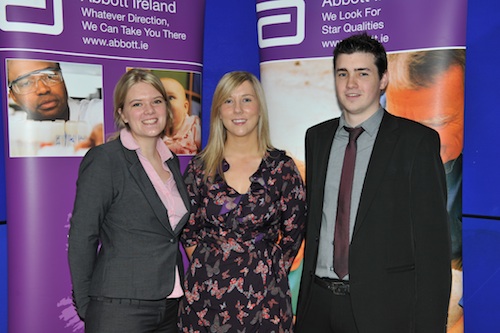 Abbott in Ireland
Abbott is one of Ireland's leading health care companies, employing almost 4,000 people. Abbott Ireland manufactures and markets a broad range of health care products including medical devices, and pharmaceutical, diagnostic and nutritional products. Abbott has eight manufacturing facilities located in Clonmel, Cootehill, Cork, Donegal, Longford and Sligo and a thirty party manufacturing management operation in Sligo. It has commercial operations in Dublin and shared services in Dublin and Westport. Abbott has been operating in Ireland since 1946.
About Abbott
Abbott is a global, broad-based health care company devoted to the discovery, development, manufacture and marketing of pharmaceuticals and medical products, including nutritionals, devices and diagnostics. The company employs nearly 90,000 people and markets its products in more than 130 countries.
Abbott's news releases and other information are available on the company's websites at www.abbott.ie and www.abbott.com.