GMP students visit Boston Scientific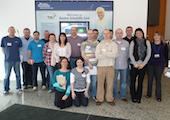 Published on: Monday, 02 April 2012
First and second year GMP students accompanied by Mary Quirke and Ann Toebes, went on a site visit to Boston Scientific, Model Farm Road, Cork on Thursday March 15th. The aim of the visit was to see the products manufactured by Boston Scientific in a GMP environment. On arrival at reception, the group was greeted by Ewa Ziobron, a member of the HR department, who delivered a presentation on the background to the company and the site and how it has developed and grown over the years. The site is currently going through a lot of change with the sale of the neurovascular division to Stryker. The areas remaining with Boston Scientific Cork are Cardiac Rhythm Management, Gastroenterology, Cardiology and Urology. There is also a product going through clinical trials - Asthmatix - a bronchial thermoplasty product to help severe asthma sufferers. The group was shown some catheters and balloons as examples of the products manufactured on site.

Liam Hennessy, a graduate of CITs Higher Certificate in Science in GMP & Technology and currently a student on the follow-on BSc in GMP, met the group to share his experience of working in Boston Scientific. He related how he started in the company as a product builder. Through a combination of experience and education he has progressed to the role of Quality Technician.

Finally, the group were shown some of the manufacturing areas through the observations windows on the corridors. While many of the manufacturing processes are manual, new automated production and packaging lines have been installed and validated in one of the areas recently.

Overall, an interesting and informative visit to a thriving local medical device manufacturer.