GMP students visit Janssen Pharmaceuticals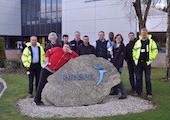 Published on: Wednesday, 13 March 2013
First year GMP students accompanied by Mary Quirke and Ann Toebes, went on a site visit to Janssen Pharmaceuticals, Little Island on Tuesday March 12th. The aim of the visit was to learn about the company and to find out how APIs are manufactured in a GMP environment. On arrival at reception, the group was greeted by Hugh Collins, an Operations Manager and Paul A OSullivan the Site Safety Manager. We were brought to a room where we were joined by Breda Geoghan, an Operations Manager and Magda Skrzeta from administration. Paul delivered a presentation on the history of the plant and gave us an overview of the product range manufactured on site. The APIs manufactured on site fall into 3 categories, HIV/Aids, Central Nervous System products and Internal Medicines (e.g. Motilium, Immodium and others). The growth products are the HIV/Aids and anti-psychosis medicines. All products manufactured on site are sent on to Janssen formulation sites around the world. Breda and Hugh gave us an overview of the different unit operations in each process.

Later the group were provided with lab coats and safety glasses and were shown through the warehouse and on to one of the manufacturing buildings. This allowed us to get a feel for the type of processing carried out on site. The cleanliness and the attention to detail in steps to protect both the product and the employees were striking throughout the visit. We went to see the environmental side of the plant including the activated carbon absorbers for treating waste gases and the aeration tanks for biological treatment. Finally before leaving, refreshments were provided with a further opportunity to ask questions.

Overall, an interesting and informative visit to a thriving local pharmaceutical manufacturer.