GMP students visit Gilead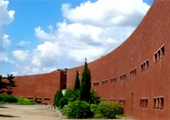 Published on: Tuesday, 03 December 2013

Students taking the Manufacturing Technology module in the Higher Certificate in Science in GMP & Technology and in the Diploma in Biopharmaceutical Manufacturing Operations accompanied by Ann Toebes, went on a site visit to Gilead Sciences, Carrigtohill on Friday November 22nd.
Having studied the unit operations involved in Oral Solid Dosage processes, the class was looking forward to seeing the process in real life. On arrival the group was welcomed by Bernard Maguire the Tabletting Production Manager and David Pomeroy, a tablet technician and a 2013 graduate of CITs Higher Certificate in Science in GMP and Technology. We were given an overview of the company, the products it manufactures, an overview of the product pipeline and details of the manufacturing processes. Next stop was the changing room where everyone washed their hands, donned hair nets, beard nets, tyvek suits, safety glasses and finally shoe covers. After another hand wash we were led into the manufacturing area where we met John OShea, a Shift Team Lead. John brought us through each of the unit operations from dispensing to tablet coating and packaging. Tablets manufactured on site are sent to the Packaging Department on site or abroad to another Gilead packaging facility.
The cleanliness and the attention to detail in steps to protect both the product and the employees were striking throughout the visit. There was plenty opportunity to ask questions and David kindly provided everyone with further information on the products manufactured by Gilead.
Overall, a very interesting and informative visit to a growing pharmaceutical formulation facility.