CIT hosts Engineers Ireland STEPS "Engineering Your Future"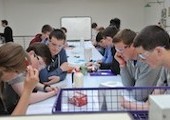 Published on: Friday, 23 May 2014
72 TY students from Cork, Limerick and Galway visited CIT to take part in the Engineering Your Future programme. 'Engineering Your Future', supported by Engineers Ireland's STEPS programme, is a week-long, hands-on programme for Transition Year students, designed to introduce them to the exciting and diverse world of engineering. During the week, they visited all areas of CIT engineering, architecture, maritime studies and technology. Michael Loftus, Head of Faculty of Engineering & Science in CIT, said: "This programme provides students with the opportunity to experience engineering innovation in operation in CIT and to see, at first hand, the environment which has produced European award-winning students for many years. Exposure to this type of experience helps to inform their decision-making in relation to course selection in higher education. Better informed students will make better informed course and career choices and this is an outcome that will be highly beneficial to them over time."
We in chemical engineering had the pleasure of hosting 32 of the students in two groups for one morning. They were treated to the delights of engineering a cup of tea, a topic that seems simple until you consider the heat balance and transfer, modelling the process with a mathematical equation, before determining if the model adequately represents reality. Even then, there is still the reaction engineering, solution thermodynamics and mass transfer to address, plus safety, environmental, economic and social concerns. Making a cup of tea will never be the same!

The groups also encountered the difficulties of production processes, when they were assigned to the PlayDoh Fun Factory. This exercise was originally devised by the Minnesota Technical Assistance Programme to educate regulators and producers in the practical aspects of waste avoidance and minimisation.

Finally we must thank our graduates in Eli Lilly, MSD Brinny and Janssen Little Island who guided the students around their sites, demonstrating how life-enhancing products are manufactured under strict quality management, ensuring safety and environmental protection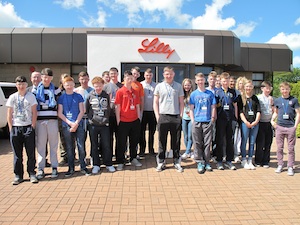 Pat Kennedy brought one group to Eli Lilly in Dunderrow, near Kinsale. Roisin Mulcahy, graduate, and Norma O'Mullane an Roisin Kelleher, both third years on placement, explained their day-to-day activities, the scope of engineering and the importance of interacting with colleagues. The students were then taken on a tour of the site, which included visiting the nature reserve!

Ian O'Sullivan brought a second group to MSD, Brinny. Mairead Rice and Erin Reidy first gave a site overview and spoke about their experiences studying chemical engineering and now working with MSD. Kieran McCarthy, the Utilities lead, gave an interactive tour of site utilities including the waste water treatment plant, electrical supply, WFI (water for injection) and clean steam systems. Alan Hinnell, a project engineer, gave a tour of their new CHP (combined heat and power) plant, explaining the economic and environmental benefits of the investment.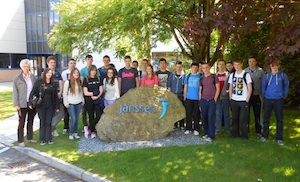 CIT's Dr Ann Toebes and Sylvia Leatham, Coordinator of the STEPS programme at Engineers Ireland, brought the third group to Janssen Pharmaceuticals, Little Island. They were greeted by John Kelly and Kevin O'Regan, both CIT engineering graduates, who gave short presentations on their backgrounds and their roles in Janssen. They explained that the pharmaceutical products manufactured on this site were APIs which were then sent to secondary sites around the world for formulation and packaging. The students visited Production Plant 1 and Production Plant 3, the former constructed approximately 10 years ago and the latter around 30 years old. The design differences between the two plants were striking, the newer plant having a linear vertical layout, enhanced containment features and more process automation than the older plant. Following a tour of production, the groups visited the environmental plant to see the waste water treatment plant and carbon adsorption beds used to treat vent gases.