Lecture on Barryroe oilfield development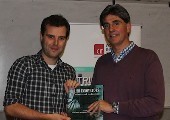 Published on: Monday, 20 October 2014
Providence Resources is currently engaged in a multi-year multi-basin drilling programme around the island of Ireland. This programme has been catalysed by improvements in oil pricing, offshore technology, gas infrastructure and modern 'fit-for-purpose' fiscal terms.
The first well which was drilled in 2011-2012 as part of this programme, was on the Barryroe Oilfield, approximately 50 km off the south coast of Ireland. John O'Sullivan's presentation reviewed the latest analysis of the data from that well together with its subsequent integration into a full field model. Potential development concepts were discussed for what is likely to become Ireland's first commercial oilfield development project, along with career opportunities in the oil industry.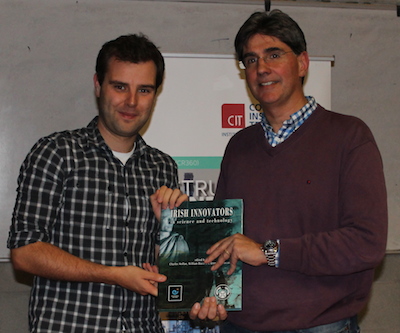 Bryan Humphreys (Final year, chemical engineering) and John O'Sullivan (right).
John O'Sullivan studied Geology and Geophysics at UCC and NUI Galway before joining the exploration department at Mobil North Sea in 1989. He worked on various West of Britain and Irish exploration projects for the company before moving to Mobil's production office in Aberdeen where he worked on the North Sea Beryl Field complex. He subsequently worked in the company's West of Shetlands Asset Capture Team before relocating to Germany to gain subsalt depth conversion experience. John left Mobil in 1998 to join Marathon Oil in Ireland where he principally worked on the Kinsale Head, SW Kinsale gas storage project and Corrib gas field acquisition. In 2002, following the completion of a Technology Management Masters, John joined Providence in Dublin where he has been focused on developing the company's exploration strategy. John is also currently completing a PhD dissertation at TCD on the South Porcupine Basin on a part-time basis.