Pfizer staff presented with Chemical Process Safety certificates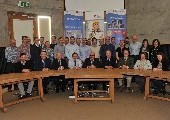 Published on: Wednesday, 12 November 2014
28 staff from Pfizer's Little Island and Ringaskiddy plants have been presented with single module certificates recognising their success in achieving the module in Chemical Process Safety (Module CHEP8023 at NFQ Level 8). A total of 41 staff have reached this standard and a further 16 are undertaking the module.
The importance attached by Pfizer to this achievement was illustrated by the attendance of Niall Condon, Senior Vice President, Biopharmaceutical Manufacturing Operations, Ken Bradley, Vice President, Active Pharmaceutical Ingredient Operations, Seamus Fives, Site Leader (Ringaskiddy & Little Island) and Donal Mulkerrins, Safety Team Lead.
The journey to this achievement began back in 2012 where CIT and Pfizer Little Island partnered to develop a module on chemical process safety (based around existing undergraduate teaching) that complemented the normal operating practices on the site, by providing a theoretical background and broad commentary on the existing good practices. This approach embodied the commitment to creating a safer site, a more engaged workforce and ultimately creating a positive culture with respect to Health and Safety in the workplace.
This goal has been acknowledged nationally by Pfizer Pharmaceuticals Ireland winning a Responsible Care Award in the area of "leading edge approaches to achieving Health & Safety excellence" for their work in the area of building process safety knowledge in their plant in Little Island.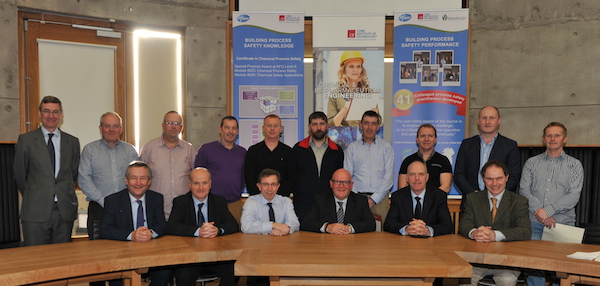 Some recipients from the Little Island site. Seated at the front (L-R): Pat Kennedy who delivered most of the module, Michael Loftus, (Head of Engineering & Science Faculty), Ken Bradley (Pfizer, VP API Operations), Niall Condon (Pfizer, VP BioPharmaceutical Manufacturing Operations), Seamus Fives (Pfizer, Site Leader), Michael J. O'Mahony (Head, Process, Energy & Transport Engineering)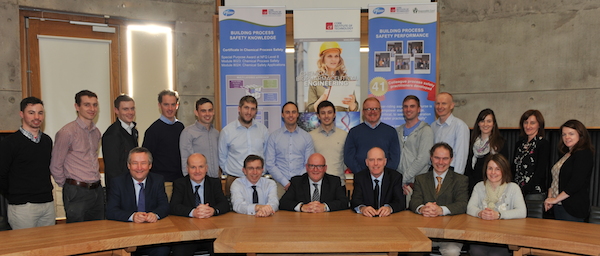 Some recipients from the Ringaskiddy site