Design Challenges in sterile manufacturing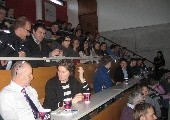 Published on: Thursday, 19 February 2015
Over 100 delegates attended the recent seminar in CIT on sterile manufacturing. Four presentations were delivered:
Preparation of water for pharmaceutical processes
Hugh Hodkinson, DPS Engineering
CIP/SIP/Sterilisation
Sean Coomey, Janssen Biologics
Ensuring staff safety in sterile manufacturing
Gina Halligan, Astellas
Ensuring product integrity in sterile manufacturing
John Daly, MSD Brinny
Lots of questions, lots of discussion in the sessions as well as networking during the breaks. The talks were well presented, interesting, informative and stimulating. Mnay thanks to our speakers. The opportunities for discussion were invaluable.
Thanks to Dr. Abina Crean from UCC's School of Pharmacy for chairing the event and, particularly, Cilian O Suilleabhain for organising it.
This was a joint Engineers Ireland and IChemE All Ireland Member Group event, with sponsorship from ISPE Ireland Affiliate.