Positive reaction from industry to the Diploma in Biopharmaceutical Manufacturing Operations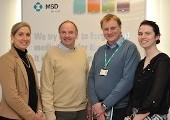 Published on: Thursday, 05 March 2015

Ray McQuirk, the Associate Director of Technical Services and Engineering in Merck Sharpe and Dome (MSD) in Brinny, who was David Kerr's supervisor, said that "David, from the outset, was very eager to learn as much about the business we conduct at MSD Brinny. David was part of the production team, observing the process train from protein purification to the final drug product manufacturing stage. He was involved in a number of continuous improvement projects and he also brought a lot of his own engineering background to the projects. David was a pleasure to have in our business and he really took advantage of the opportunity". Feedback from Ray was that the programme encompasses the relevant modules and skills that will give students the advantage to secure employment in the biopharma sector".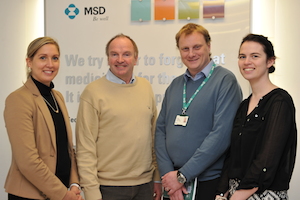 From left to right: Dr Caroline O' Sullivan (Work placement coordinator, CIT), David Kerr (graduate, CIT), Derek Lonergan (Operations Lead API, MSD) and Joanne Conway (HR, MSD). Photo taken by Barry O' Sullivan (CIT).

Joe Keane Operations Manager of Rowa Pharmaceuticals in Bantry Co-Cork, said that "Anthony Cantwell arrived with a focused mindset coupled with very good business skills and a positive outlook to work. He produced during his time here a high level of output in both quantity and quality. Anthony's positive attitude and commitment to his position reverberated throughout the company and formed an example for other members of staff. He has been superb to work with, being eager, precise, very well presented and keen to learn and take on all tasks and responsibilities to broaden his knowledge and experience. His contribution to the day-to-day operations of the business cannot be over emphasized. He was very comfortable with all the members of staff, we were very happy to have him here with us."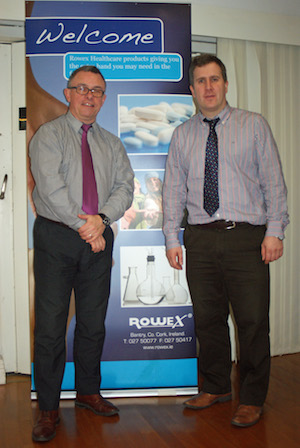 From Left to Right: Anthony Cantwell (Graduate, CIT) and Joe Keane (Operations Manager, Rowa Pharmaceuticals).
Information relating to the content of these courses can be viewed in the following website:
http://courses.cit.ie/index.cfm/page/course/courseId/1402
or
Contact the Secretary of the Department of Process Energy and Transport Engineering: Elaine McCarthy elaine.mccarthy@cit.ie or 021-4335150 for more details.