CIT Chemical Engineering welcomes 20 Transition Year students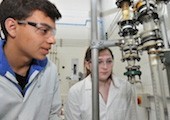 Published on: Tuesday, 12 May 2015
Last week, CIT Chemical Engineering welcomed 20 Transition Year students from 9 schools for a two-day programme. Prior to arriving in CIT, Charlie Dolan visited schools to provide career guidance advice, with particular reference to the pharmachem sector. The students learned how to prepare CVs, which provided a basis for their applying to join the programme. Following an interview, the selected students spent two days in CIT.
To help enhance the students understanding of the opportunities that this qualification offers, recent graduates, Roisin Mulcahy (2013, Lilly) and David Reilly (2011, FMC) explained the opportunities offered by a career in chemical engineering, the desired aptitudes of a potential student and their experiences as students and in the workforce. Ian O'Sullivan explained that a cup of tea is not as simple as it seems, demonstrating the use of maths to model the scientific principles surrounding a cup of tea. After lunch, the theme of the everyday application of chemical engineering continued with Mary Quirke leading an exercise to consider the production of chocolate biscuits and the design aspects of the packaging.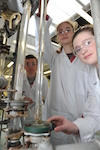 The students spent the following morning in the laboratory, examining cell growth, chromatographic separation, gas absorption and pumping systems – topics more usually associated with chemical and biopharmaceutical engineering! Pat Kennedy, Sandra Linehan, Cilian O Suilleabhain and Teresa Twomey provided the guidance. The programme was wrapped up by the students preparing and delivering presentations, as a team on their experiences over the 2 days. Second year students, Allan McCarthy, Sharon Moloney, Nathan Neenan, and Leanne O'Reilly, provided valuable mentoring and moral support to the teams.
All students, thanks to the assistance of staff and students, left with a good understanding of the range of career opportunities and a positive image of the educational environment of CIT.