Evening lecture: A Consistent Approach to Agitator Design on Tuesday 13th October at 18.30.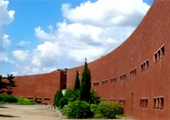 Published on: Tuesday, 29 September 2015

CIT chemical engineering is hosting an Engineers Ireland evening lecture on Tuesday 13th October at 18.30.
In this lecture, Nick Burton will look at SPX's latest design software and discuss general "mixing fundamentals" showing aspects with particular relevance to the pharmaceutical industry. Nick will also give a good insight into the thought processes for good agitator design.
SPX are based in Charlotte, North Carolina and offer a robust portfolio of products and services that are used to help processors solve their toughest application challenges around the world.
Nick Burton is a BSc chemist who started working in an engineering environment and drifted further towards engineering because it seemed to be more interesting! He has worked in fluid mixing since 1994, apart from a five year stint in powder processing (milling, mixing, sifting). He is a Principal Applications Engineer for SPX Flow Technology (Lightnin and Plenty Mixers).