Nick Burton of SPX Fluid Technology presented a lecture entitled "A Consistent Approach to Agitator Design" to Engineers Ireland.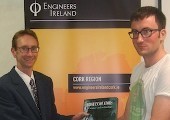 Published on: Thursday, 15 October 2015
SPX Flow Technology are best known as the makers of "Lightnin" agitators. They have recently developed software for the sizing and design of agitators for a whole variety of applications and sizes from pilot plants to large scale mining installations in Australia.
Nick Burton discussed agitator design, explaining key issues such as the impeller to tank ratio, impeller spacing, sizing, speed and power to volume ratios. The effect of fluid properties such as viscosity, specific gravity and the effect of the difference in properties of the components in a fluid mixture were addressed. The many different industries where agitation is used were outlined as well as the variety of applications from storage to chemical reactions and biopharma fermenters.
Understanding the process requirements is the first step in agitator selection - for example in many solid/liquid applications uniform mixing is achieved whereas all that is required is to keep solids off the bottom of the vessel: thus oversized agitators are often used leading to excessive capital and running costs. His talk concluded with a case study of an application where the properties varied as the materials were mixed, so that for accurate design the process had to be considered at a number of points.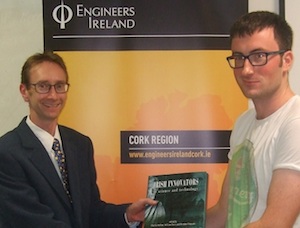 Forty four people attended the event. Martin Keily of Glazik, the Lightnin distributors in Ireland arranged for Nick Burton to give the talk. Ian O'Sullivan of CIT gave the vote of thanks and Jack Cullinan made a presentation to Nick Burton. Rebecca Power of CIT took the photograph. Thanks also to Michael Gilroy of CIT and Ronan Duggan of Engineers Ireland Cork Region for their help in organising the event.