Chem Eng 3 students visit several process plants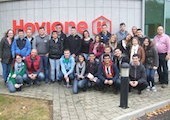 Published on: Friday, 30 October 2015
The third year Chemical & BioPharma Engineering students from Cork Institute of Technology visited three sites, Hovione, Eight Degrees Brewery and MSD Ballydine on a recent series of plant tours. The group included 15 students from Brazil who are studying in Ireland for a year, taking a selection of CIT's chemical engineering modules.
Hovione showed their fluidised bed dryer. This cutting edge technology is very useful for consistently obtaining the desired particle size and morphology.
The students had to gown up due to the high level of GMP associated with it and its associated dryers and packing area. The main CB1 building was most interesting. Two reactors can reach temperatures of -196 oC. The students also saw plough filters, centrifuges and dryers and reactors and the solids containment equipment. Niall O'Beirn, a CIT chem eng graduate, was the guide. Michael Kelleher, a graduate of the BSc in GMP, gave an excellent introduction to the plant and a talk on safety. The challenges involved in multi-purpose contract manufacturing were outlined.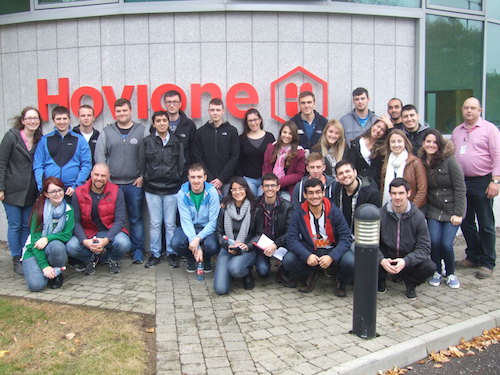 Eight Degrees Brewery in Michelstown provided a tour of the existing craft brewery – and samples of their excellent product! The challenges of running a small business with limited capital were outlined. They have recently purchased the equipment from a brewery in Mauritius. There was quite a contrast of second hand equipment in comparison to the high tech pharmaceutical industry. It was a great experience for the students to meet a real entrepreneur taking risks to grow a business from scratch. The Head Brewer is Mike Magee, a CIT analytical chemistry graduate. Thanks to co-owner Scott Baigent and Mike Magee for looking after us so well. The visit tied in well with the Industrial Biotechnology and Bioreactor Design modules.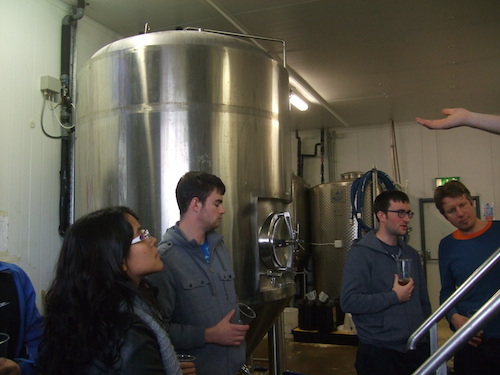 Mark Jenkinson gave an overview of Merck worldwide and of the Ballydine site. Fionnuala Hayes showed us the top floor of Factory 3 where the students learnt about the challenges of containment when charging solids to reactors and the variety of equipment that can be used. Getting to see a filter dryer and an inverted bag centrifuge up close was very interesting. The tier 1 and tier 3 system for ensuring that all issues are highlighted in a structured fashion ties in nicely with the Process Quality Management module the students will do in fourth year. David Conway, a CIT chem eng graduate, showed the reactors and explained the need for all the line connections and how these interconnections are achieved. Mark Jenkinson showed us the waste treatment facility. This was of special interest to the third years as they are currently doing the "Process Waste Management" module. It includes a project involving the design and licensing of a waste treatment plant. The water purification was also interesting. The students will be learning about membranes and ion exchange in the coming months. We are very grateful to Mark, David, Fionnuala, Ann and Nuala who hosted us at Ballydine for a most memorable visit.