GMP and Biopharmaceutical Manufacturing Operations students visit Pfizer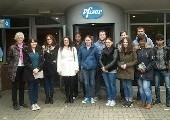 Published on: Monday, 09 November 2015
A group of students accompanied by Ann Toebes and Maria Cullinane, went on a site visit to Pfizer Ringaskiddy on Wednesday November 4th. The aim of the visit was to learn about the company and to find out how APIs are manufactured in a GMP environment. On arrival at reception, the group was provided with hard hats and safety glasses and was greeted by Peter Horgan, a QC analyst. Following tea and coffee we were joined by Benny Flaherty from production. Peter delivered a short talk on the history of the plant and gave an overview of the product range manufactured on site. He stressed the importance of quality and safety on site. We learnt that Lipitor, while off patent, is still a significant product for Pfizer. We walked past the OSP1, NPTL and OSP3 buildings. Peter described the purpose of the solvent recovery plant and showed how safety was at the core of the design of the hydrogenation building. We viewed some storage vessels and observed the bund around each of them. We then climbed 4 floors in OSP4 and saw how solid raw materials are charged to reaction vessels via Metal IBCs that sat on load cells. The mushroom valves on the top of the reaction vessels allowed the metering of the solid raw materials. Each vessel had an agitator and a supply of nitrogen used for inerting as well as many other supply lines. On the Floor 3 we were able to see the reaction vessels and we learnt that crystallisation is a very common unit operation in the facility. After crystallisation, the product is pumped to a filter/dryer and finally packaged in drums. All the APIs manufactured on site are shipped to a plant in Belgium and from there are shipped to formulation sites around the world.

We visited the control room where production is monitored and controlled. While there we observed the separation of two immiscible liquids in a reaction vessel. The step was controlled using a Pulse detector and verified by an operator who visually monitored the separation via a length of glass pipework (on camera) underneath the vessel.

Lastly we visited the QC lab in the OSP4 building. Peter explained the elements of a chromatographic system and showed us its many applications in the lab – GC, HPLC and TLC. The titration, a basic analytical technique, is still used albeit mostly using automated equipment.

Overall, this visit allowed us to get a feel for the type of processing carried out on site and to see the impact of GMP on how medicines are manufactured.

Thank you to Peter and Benny for a very interesting and informative visit to a thriving local pharmaceutical manufacturer.