Key features of plate heat exchangers presented in evening lecture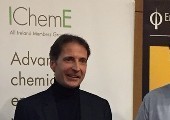 Published on: Friday, 11 March 2016
Ing. Bernhard Fischer, manager of Fischer Maschinen und Apparatebau GmbH, recently presented a lecture on developments in heat exchanger design and guidelines on prolonging the lifespan of plate heat exchangers. Fischer have been manufacturing plate heat exchangers since 1933 and Berhard illustrated their adoption of 3D fluid flow modelling of modern exchangers to increase their efficiency. The benefits of 80+ years experience have led to straight-forward, but crucial, design and operational features.
Hosted under the auspices of the IChemE All Ireland members Group and the local region of the Chemical & Processing Division of Engineers Ireland, the audience, drawn from local industrialists, academics and students, engaged in a prolonged question and answer session to draw out the wealth of expertise provided to the lecture.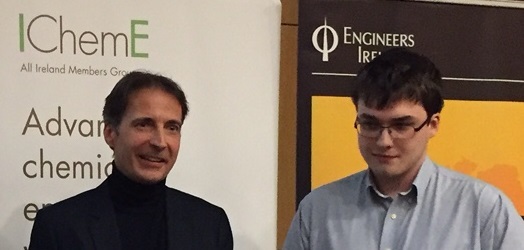 Evan Mackey, 2nd chemical engineering student in CIT and member of the local Engineers Ireland committee, presented Ing. Fischer with a token of the audience's appreciation.