Congratulations to the Chem Eng Society – best CIT Academic Society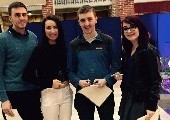 Published on: Wednesday, 13 April 2016
The Chemical Engineering Society has been selected as CIT's Best Academic Society. They won this accolade based on their activities for the past year. The judges particularly praised the Society's efforts to engage with all members of the course and to break down year barriers to give the group a community feel and especially to help first years initiate friendships. They organized many and various events: weekly soccer, pool and bowling nights out, 1st year/4th year table quiz, exam de-stress, cinema trips and, of course, a trip to the Frank Morton Sports.
Well done to the committee:
Ryan Collins, Sean Dineen, Michael Gilroy, Grainne O Brien, Leanne O Reilly and Leona Sheehan.