Roisin Kelleher presented with Inaugural PM Group Medal & Bursary for Best Design Project 2015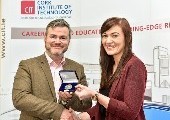 Published on: Wednesday, 04 May 2016
Roisin Kelleher, who graduated in 2015 in chemical and biopharmaceutical engineering, has been presented with the inaugural PM Group Medal and Bursary for her achievements in her final year Design Project.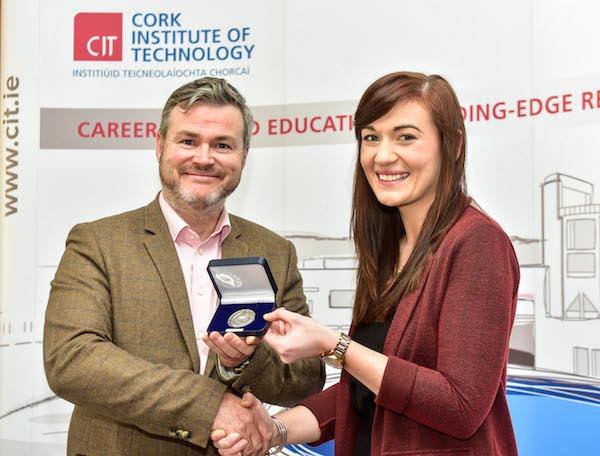 Paul O'Leary, PM Group Engineering Manager, with Roisin Kelleher
Roisin's design project was concerned with designing a process to gasify municipal solid waste (MSW) to produce synthetic natural gas (SNG). This task involved a team of 5 members with team and individual assignments. Team tasks included the selection of the process details and developing heat and mass balances. The plant was subject to safety, environmental and economic evaluation to determine its "fitness for purpose". Site selection and layout were also considered. Roisin had individual responsibility for the gasification section, modelling the reactor, preparing its P&I.D. and operating and control strategy, as well as designing the associated heat exchanger. Based on the hazard potential of different elements of the plant, Roisin's gasifier was chosen for the team HAZOP and subjected to detailed scrutiny. She also was individually responsible for the simulation and optimisation of the plant using AspenPlus. In all of this, PM Group's Danny Hayes was the team's mentor, supported by Susan Walsh and Sheila O'Keeffe and led by Peter O'Sullivan. This was part of PM Group's commitment to chemical engineering education in CIT.
Roisin is no stranger to winning awards, being a holder of the Denise O'Dea Perpetual Trophy for obtaining highest marks in first year and being awarded the Cliona Magner scholarship in final year, based on her all-round achievements.
Roisin is employed as a bioprocess engineer with Eli Lilly S.A. in Dunderrow, Kinsale, where she undertook her third year placement.

PM Group is a world class engineering, architecture, project and construction management company employing over 2,000 people in Europe, the USA and Asia. PM Group has been an employer of CIT chemical engineering graduates since the early days of the degree establishment and these are to be found across PM Group's offices and sites and at every level from the fresh graduate to CEO.