Sarang Joshi has been presented with the MSD Medal for Best Research Project, 2015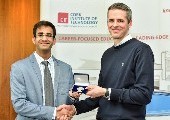 Published on: Monday, 09 May 2016
Sarang Joshi has been presented with the MSD Medal for his research project in his chemical and biopharmaceutical degree, 2015, investigating product bulk density at FMC.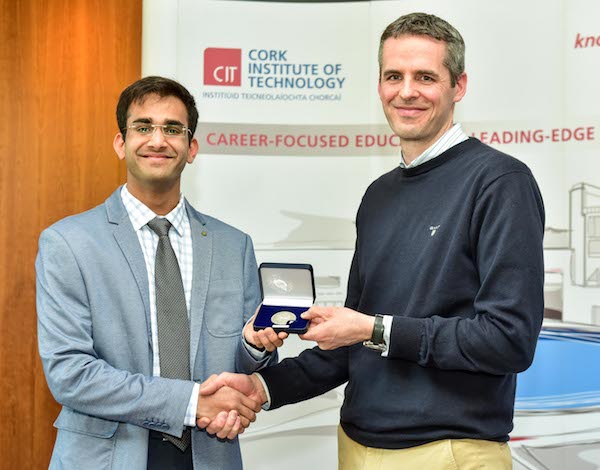 Sarang undertook his work placement at FMC, Little Island, Cork, between the third and final years of his chemical and biopharmaceutical engineering degree. He followed this by undertaking his final year Research Project examining in detail a key aspect of FMC's production. FMC manufacture microcrystalline cellulose. Spray drying is used as part of this process. Key steps in this are atomisation, drying and separation. Sarang examined the available performance data using correlation analysis and stepwise regression modelling. The aim of the project was to investigate spray drying principles and analyse them with respect to their impact on the bulk density of the product. Similar investigations on bench scale spray dryers were examined, identifying potential parameter correlations and suitable analytical tools. These were extended to suit the demands of considering an industrial scale dryer and combined with FMC real-world operating data. The research project corroborated the major variables that were shown to influence the bulk density and managed to ascertain new relationships from the data analysis. This leads to a further scope for a better control over the bulk density of product and for future investigations. Stimulated by this project, since graduating in chemical engineering, Sarang has undertaken a Masters in Data Science and Analytics, and will join Pfizer in Newbridge in September.

FMC International, located at Little Island, Cork, is part of the FMC Health and Nutrition division. It manufactures food and pharmaceutical grade microcrystalline cellulose in the Cork plant. This product is used to enhance texture, colour, structure and physical stability of pharmaceutical products.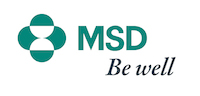 MSD are the world's second-largest pharmaceutical company, and have operations in more than 140 countries. MSD's operations in Ireland include manufacturing facilities and offices across five counties, employing over 2,000 people and supporting a further 9,000 indirect jobs across the country. In the past five decades, MSD has invested more than €2.2bn in Ireland and contributes significantly towards making the pharmaceutical industry the country's leading export sector. http://www.msd-ireland.com