Happy New Year - and a crossword puzzle!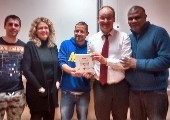 Published on: Tuesday, 27 December 2016
Here is a crossword to start the New Year. This was a competition taken by students from the Diploma in Biopharmaceutical Manufacturing Operations and the BSc in GMP and Technology. The photo shows those who were first to finish, from left to right…Brian Murphy, Maria Hegarty, Ray Dollard, Martin Rea and Adeola Koledoye. Can you beat 15 minutes?
For the solution to the crossword please email Ann Toebes ann.toebes@cit.ie
Note: in the crossword the answer to any clue with an asterisk is an acronym.