CIT nominated for Pharma Industry Awards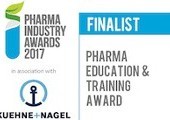 Published on: Monday, 02 October 2017
CIT has been shortlisted as a finalist for the Pharma Awards 2017 in the Education & Training Category for its Certificate in Biopharmaceutical Processing. Delivered by the Department of Process, Energy & Transport Engineering over one academic year, 80 professionals have, so far, been awarded the qualification. This Certificate upskills engineers, scientists and other professionals from small to large molecule processing and has proven very popular with industry since its inception five years ago. For more details contact sandra.lenihan@cit.ie

The Awards will be announced on Thurs 5th Oct in Dublin with over 500 industry professionals across all areas of pharma, from manufacturing to suppliers will attend.
Read more about the Awards here.