First Year Chemical Engineering visit Pfizer Little Island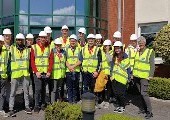 Published on: Monday, 23 April 2018
Half of the Chemical engineering 1st years with Dr Ann Toebes paid a visit Pfizer Little Island on Friday 20th April last and were greeted by Deirdre Furney. The group were furnished with PPE at reception (hard hat, safety glasses and high vis vest) and were brought to the meeting room. Here Colin Rooney, the Operations Lead for the site, gave a presentation of the history of the site, an overview of the site's facilities and products manufactured. While Atorvastatin is the facility's biggest volume product, other products are now on the site's product list. Colin related to us the 3 pillars that are central to how the plant is run: Safety, Quality and Compliance.
Padraic Lang and Colm Shanahan, both production supervisors, brought us into the dedicated production facility. Here we observed reaction vessels and ancillary pipework and instrumentation as well as a centrifuge and a filter dryer. We were able to inspect two reaction vessels, one equipped with double-banked pitch blade impellers and the other with a paddle which was agitating a slurry. Once outside the manufacturing building we were able to view the solvent tank farm and Padraic described how the waste from the site is processed.
When we returned to the meeting room, 6 graduates of CIT's B.Eng. in Chemical and Biopharmaceutical Engineering programme were waiting to greet the students - Eileen Creedon (2004), Ciarán O'Flynn (2016), Jerome O'Connell (1996), Stephen McCarthy (2009), Conor Kilcoyne (2013) and Mary Dollard (2004).
Each graduate gave a timeline of their career path showing the diversity of roles chemical engineers occupy in industry. These varied from process and project engineering, safety, utilities, oil and gas, construction, commissioning and qualification, validation, technology transfer and supply chain management.
Thank you to Deirdre Furney for organising the visit and thank you to all those who gave their time to meet the students, it is much appreciated!