Congratulations to Gary & Paul O'Donovan on winning Silver > Rio Olympics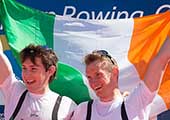 Published on: Friday, 12 August 2016
Cork Institute of Technology has offered its congratulations to West Cork brothers, Gary and Paul O Donovan, on their achievement of a silver medal in the lightweight men's double sculls at the Rio 2016 Olympic Games.
Gary has just completed an Honours Degree in Business at CIT and staff and students took time out of their work and study schedules on Friday afternoon to cheer on the West Cork brothers.
CIT President, Dr Brendan J Murphy, congratulated the pair and said "to participate in the Olympic Games is in itself a great honour and achievement and to win an Olympic medal is an exceptional accomplishment. We are delighted for Gary, and his brother Paul, and extend our sincerest congratulations and best wishes to them both and to all athletes participating at the Games."
The Head of Student Affairs, Dr Dan Collins, a fellow West Cork man, noted that the medal is a "culmination of Gary and Paul's work, perseverance, dedication, and commitment to the sport." He offered his congratulations on behalf of all CIT Students and Sports Department and staff, to Gary and his brother Paul, their family and "all who have been associated with this momentous achievement." Dr Collins noted that he believed the brothers goal was to reach the final and this they did with conviction, grit and perseverance. Dr Collins, commenting on the entertaining interviews the brothers from Skibbereen have given to date, stated that both brothers have given a humorous and refreshing view of the sport and their involvement in it.
Gary was, earlier this year, presented with CITs International Achievement Award at the Annual Sports Awards. Ceremony.
The Skibbereen siblings, who won their heat on Monday, were third across the line in their semi-final behind the heavily favoured French and the United States in a time of 6:35.70.
They have had an extremely busy 2015, finishing in the top 11 at the World Rowing Championships in France in September 2015 in the Lightweight Men's Double Sculls ultimately securing qualification for the Olympic Games in Rio 2016. Gary & Paul have represented Ireland since 2008 and currently winners of 9 national championships.
Results
Gold
France
P. Houin and J. Azou 6:30.70

Silver
Ireland
G. O'Donovan and P. O'Donovan 6:31.23

Bronze
Norway
A. Strandli and K. Brun 6:31.39