For Student Entrepreneurs
CIT is one of the leading third level Irish institutions in terms of student entrepreneurship. In the 'First Destinations survey' for CIT graduates of 2016, 6% of graduates indicated that they are self-employed. The various initiatives, competitions and the constant exposure to supports for entrepreneurs from 1st year are all contributing to this statistic.
Student Enterprise interns:
Interns are the student entrepreneurship ambassadors in CIT. The role of the Enterprise Interns is to promote entrepreneurship to the student population in CIT, through class presentations, competitions and bringing guest entrepreneur's on campus to speak to the students. The Enterprise Interns also work with CIT students with business ideas, discussing their business idea, pointing them to the various supports and programmes for entrepreneurs as well as bringing the students to the Rubicon Centre to meet with the team. Click for more information.
Student Inc. :
Student Inc. assists students in developing their business while studying in CIT. Student Inc. is run over the summer months and is Ireland's longest running student accelerator programme, running since 2011. Participants of Student Inc. come from a wide range of courses in CIT. Each business receives €4,000 to help seed their business in getting off the ground (equipment, expenses and a wage to counter the loss of a summer job). Participants work full-time on their own business side by side with the 50+ entrepreneurs based in the Rubicon Centre. Participants also receive academic credits (5 credits at level 8) on successfully completing the programme. This credit is facilitated through the HINCKs Centre for entrepreneurship. Click for more information.
Student Referrals:
CIT students with a business idea can meet with an Enterprise Intern and a Rubicon Centre team member to discuss their ideas in a safe, friendly and confidential environment. Students will be given some advice on possible next steps to progress their business ideas.
The Enterprise Society:
The Enterprise Society connects like-minded students, enables them to swap skills and to get involved in entrepreneurship competitions & events.Visit: www.facebook.com/CITEnterprise or contact: enterprise@citsocieties.ie
The Enactus society: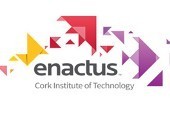 The Enactus Society looks for socially innovative ideas that make a positive impact on individuals and communities. Enactus encourages students to take entrepreneurial action to empower individuals and communities in an economically, socially and environmentally sustainable ways. Click for more information.
Delta Award:
The inaugural national DELTA Awards (Disciplinary Excellence in Learning Teaching and Assessment) was hosted by the National Forum on 21 March 2018 in Dublin, to celebrate discipline groups within institutions who demonstrated sustained achievements in Teaching and Learning enhancement.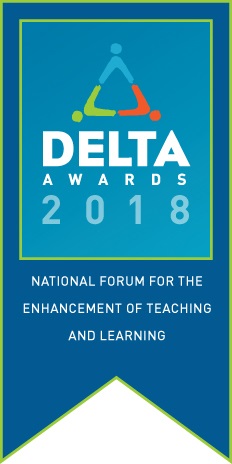 The DELTA Awards are designed to enhance, showcase and strengthen teaching excellence in higher education by recognising the value of teaching at a national level. With 48 entries nationally from Higher Education Institutions and 18 shortlisted a total of 11 awards were presented. CIT were the winners in the Business category in recognition for the work it does in the area of student entrepreneurship.
The Award recognises the integrated student-centred approach to Entrepreneurship Education which is operationalised through the ACE (Accelerating Campus Entrepreneurship) group comprising of the Innovation and Enterprise Office, Academic Departments across four campuses, Research, the Rubicon Centre, CIT Students Union, Student Enterprise Interns and the Hincks Centre for Entrepreneurship Excellence.
The work of this group has resulted in many ground-breaking student entrepreneurship activities including: Student Inc., Ireland's first accelerator programme and the Business Model Canvas Model for First Years, which sees over 500 First Year students pitching business ideas to the Rubicon team annually.
All-Ireland Student Enterprise Awards:

Sponsored by Enterprise Ireland, Cruickshank Intellectual Property Attorneys and Grant Thornton, the Student Entrepreneur Awards offers third level students from all academic disciplines and courses of study the opportunity to realise their entrepreneurial ambitions. With a first place cash prize of €10,000 plus the opportunity to avail of €30,000 worth of specialist advice the competition attracts almost 1,000 entries from across the island of Ireland on an annual basis.CIT has a strong track record in the competition and in 2016 CIT won all the awards at the competition, the first time this was achieved by any college.
The HINCKs Centre
The HINCKs Centre for entrepreneurship excellence ensures that the entrepreneurship education it is providing to students is cutting edge and is embedded in the various programmes throughout the collage. Hincks is Irelands first Centre for entrepreneurship excellence. Hincks focuses on training entrepreneurship support staff, and entrepreneurs; research on entrepreneurship in Ireland with a view to informing national policy and training; and, education and validation of entrepreneurial educators. The combination of these strands of entrepreneurial focus will enable the further expansion of CIT's activity and will deliver even more added value to CIT's stakeholders, including students and to the region. Click for more information.
Please contact the Enteprise Interns for more information: Emiliekate.omahony@cit.ie and Sorcha.MacMahon@cit.ie