CIT makes REAL Impact at University of Illinois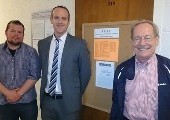 Published on: Saturday, 08 November 2014
REAL founded in 1989 by Professor Geoffrey J.D. Hewings at the University of Illinois at Urbana-Champaign is a regional science research centre for advanced graduate students in the fields of economics, geography, urban and regional planning. University of Illinois is currently ranked 24th in the world on the Times Higher Education ranking. Since its inception, REAL has provided at least two years support for 38 doctoral students from economics, geography and urban and regional planning and hosted over 100 international scholars and visiting professors.

Dr Hobbs presentation at the seminar series on the 4th November focused on the application of V‐LINCto the Biopharma and ICT sectors in Cork, utilising data collected in partnership with 7 ICT clusters in the BeWiser FP7 funded European Union project. V-LINC is a new software application developed in the CIT School of Business which maps, visualises, and analyses key relationship data collected from clustered firms to inform strategy and policy development for the organisations involved as well as catering for regional and national analysis. Dr John Hobbs and Postgraduate student Eoin Byrne have driven the development of V-LINC in CIT.

In Ireland, V-LINC is being implemented to map the cluster ecosystems in Biopharma, ICT and Agri-food sectors in conjunction with it@cork European Tech Cluster, IMERC and the West Cork Development Partnership, with the support of Cork County Council.

According to Dr Hobbs, "Many excellent research professors in the area of economic geography have presented at the REAL seminar series and as such I'm honoured to have shared the cluster ecosystem mapping methodology and knowledge developed in CIT through this medium. It has been a great experience to spend a few days at REAL to see how the laboratory works, to collaborate and share contacts."

REAL was created to operate like a science laboratory - with students and faculty together in one space, promoting interaction and collaboration. A weekly seminar series provides students with many opportunities to present their research and an active Discussion Paper series on the web ensures wide dissemination for research. REAL is supported by external grants and contracts, many of which have been developed with agencies in Brazil, Chile, Colombia, Indonesia, Japan, Korea, and Austria. Most of the research has successfully served two markets - academic journals and public policy.

Dr Hobbs believes "REAL represents a best in class model for a research centre where students and staff together in one space, promote innovation, interaction and collaboration. A model which is appropriate to CIT as we strive towards technological university status."

After the seminar series, Dr Andrew Crawley, who is on a secondment from Cardiff University to the University of Illinois under the Marie Curie FP7 fellowship spoke of the importance of cluster ecosystem mapping "I think the research Dr Hobbs is doing has a huge part to play in the development of smart specialisation analytics, a critical component for the next wave of European development funds" he went on to say "The use of linkage analysis can aid in achieving a better more attune policy instruments."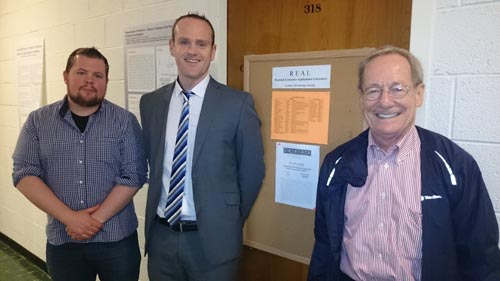 Pictured above: Dr Andrew Crawley (University of Illinois); Dr John Hobbs (Cork Institute of Technology) and Professor Geoffrey Hewings (University of Illinois) pictured at the Regional Economics Applications Laboratory Seminar Series in University of Illinois.
For further information on V-LINC, enquiries to:
Dr John Hobbs
Department of Management & Enterprise
Cork Institute of Technology
Bishopstown, Cork.
E: john.hobbs@cit.ie
T +353 21 433 5149