Clustering = Economic Growth
Published on: Tuesday, 15 September 2015
The seminar series is being hosted by CIT in partnership with Cork County Council and is a key strategic action included in the South West Regional Action Plan for Jobs, and the dissemination plan for the Be Wiser project.
The session for Policy Makers "represents an opportunity for policy makers from the region to benefit from how clusters have been used to support economic growth and job creation" says Dr John Hobbs from CIT's Department of Management and Enterprise
Gerard O'Donovan, Head of Faculty of Business and Humanities says he is "delighted to be supporting this event which has attracted international speakers and recognizes CIT's expertise in Cluster Models and the development of Cluster Analysis Software V-LINC.
"CIT's experience of working with a number of clusters across Europe, especially through the Be Wiser project is helping us to share the advantages of a clustering policy with companies, industry associations, and policy makers, to showcase how clustering can support Ireland's continuing economic growth" says Eoin Byrne, co organizer of the event.
CIT are delighted to have Joan Martí Estévez, Director of Cluster Development, ACCIÓ (pictured above), Catalonia and Tamara Högler, Head of Innovations and International Affairs, CyberForum e.V., Karlsruhe, Germany to lead the sessions and share their experiences at the seminar series.
For further information please contact Dr John Hobbs via email: john.hobbs@cit.ie
Please register for the industry event at the seminar series through the following link: http://www.itcork.ie/event/building-international-collaborations/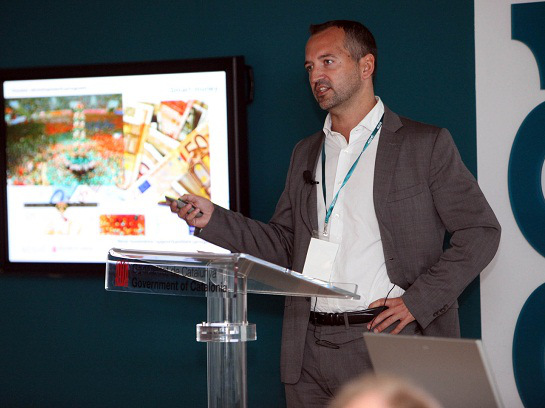 Image: Joan Martí Estévez, Director of Cluster Development, ACCIO (Catalan Agency for Competitiveness)