European Congress of Local Governments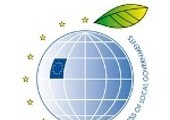 Published on: Tuesday, 19 May 2015
Dr John Hobbs from CIT presented at the European Congress of Local Governments, on invitation from the Eastern Institute, Office of the Economic Forum, Warsaw, Poland. The Congress was held in Krakow, Poland on 4-5 May 2015.
The European Congress of Local Governments, took place in Krakow, Poland on the 4th and 5th of May 2015. As part of the Treaty of Lisbon, the European Commission consults with regional and local governments and their associations to strengthen and support the regional dimension of European integration. The congress aims to integrate and facilitate co-operation between the key elements of the local and global economy, through increasing communication between the Triple Helix partners government, academia and industry. The European Congress hosted at the new ICE conference centre in Krakow had 1,300 delegates in attendance. The congress began with a plenary session 'European Regions – Starting a New Chapter' in which the President of the European Committee of Regions, Markku Markkula, reminded attendees that the main role of his organisation was to reflect the point of view of European cities and regions in the decision-making process in the EU.
The remainder of the congress was divided into four sections: Economy, Environment, Innovation and Society, where a number of panel sessions, workshops and debates were organised. Dr John Hobbs (Cork Institute of Technology) was invited to moderate and present at a panel session in the Economy track entitled 'Local Government and SMEs.' Dr Hobbs utilised the opportunity to present data collected on the mapping of the cluster ecosystems in each of the Be Wiser partner regions, a key input into the consortium Joint Action Plan. Focusing on linkages developed at a local and national level Dr Hobbs showcased the importance of 'Government Agency' and 'Research' linkages reported by SMEs in the V-LINC analysis of the Be Wiser clusters.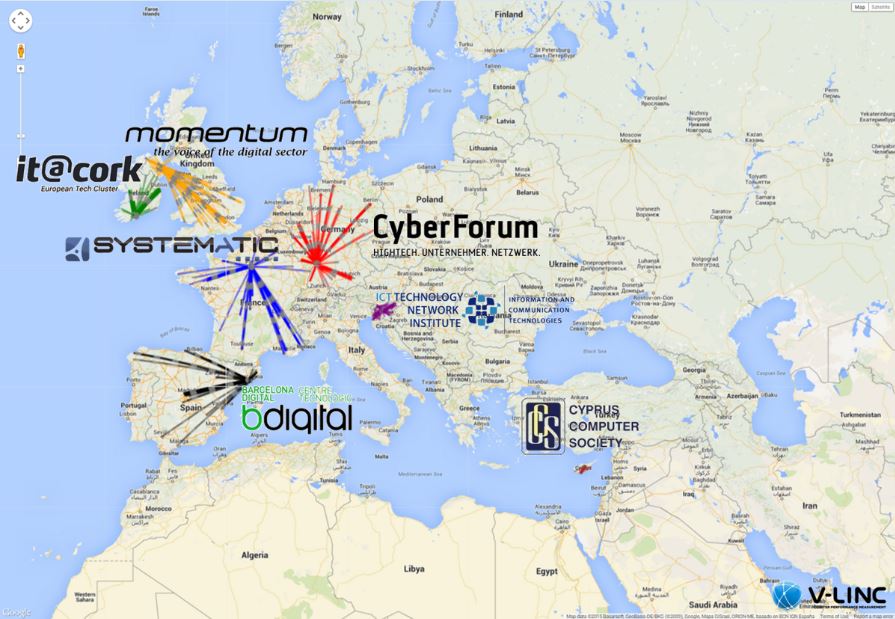 Image: The V-LINC map showcases the Local and National Linkages collected during interviews of SMEs in the following clusters: bdigital, Spain (http://www.bdigital.org/); CyberForum, Germany (www.en.cyberforum.de/home/); Cyprus Computer Society, Cyprus (https://www.ccs.org.cy/); it@cork, Ireland (www.itcork.ie); Momentum, UK (www.momentumni.org); Systematic, France (www.systematic-paris-region.org/en). This data was collected to inform and develop the Be Wiser Joint Action Plan.
Some of the interesting findings showcased in the session included: Individual firms create direct linkages with Government Development Agencies and Departments more frequently and with greater ease in the UK, Ireland and France, whilst Cyprus and Slovenia have more difficulties in creating such linkages. In terms of research linkage creation, French and German SMEs are to the fore. They create numerous research connections at a local and national level, and seem to have research engrained into their DNA. UK and Irish SMEs on the other hand have difficulties creating such research connections and when they do so they are primarily with academia and not the B2B connections which have a stronger occurrence in France and Germany.
Dr Hobbs suggests "through the Be Wiser project one of our primary goals is to integrate SMEs into their constituent clusters and the European marketplace. The V-LINC data helps us to understand the differing priorities of SMEs and MNCs across the Be Wiser consortium. We are working hard to ensure that Best Practice is shared at a cluster level to ensure knowledge and programmes are operationalised for cluster members across the consortium in an effort to provide further opportunities forSMEs to grow, create jobs and support economic growth in their regions."
For further information on V‐LINC, access to the presentation discussed above and V-LINCs research inputs into the BeWiser project, enquiries to:
Dr John Hobbs
Department of Management & Enterprise, School of Business,
Cork Institute of Technology,
Bishopstown, Cork, Ireland.
E: john.hobbs@cit.ie W: +353 21 433 5149
Skype: jhobbs.cit M: +353 86 809 1294
About Be Wiser:
Be Wiser (Building Enterprises – Wireless and Internet Security in European Regions) is a 36 month project funded under the Seventh Framework Programme (FP7) of the European Commission. It involves twelve partners from seven European countries and aims to strengthen the research, innovation potential and global competitiveness of European re-gions by bringing together research actors, enterprises, institutions and policy makers into a collaboration network. Lead partner is Systematic Paris Region.
Project Facts:
Project Acronym: Be Wiser
Project Title: Building Enterprises – Wireless and Internet Security in European Regions
Project Reference: FP7-REGIONS-2012-2013-1, Grant agreement no: 319907
Project Type: Coordination (or networking) actions
Project Duration: 36 months from 01.07.2013 – 30.06.2016
Budget: €3.306.893 (total, EC Funding: €2.873.922)
Web: http://www.be-wiser.eu/
Project Partners:
• Systematic Paris Region (LEAD partner / coordinator)(France)
• Momentum (UK)
• Queen's University Belfast (UK)
• Invest Northern Ireland (UK)
• Cork Institute of Technology (Ireland)
• IT@Cork (Ireland)
• Cork County Council (Ireland)
• CyberForum e.V. (Germany)
• Barcelona Digital Technology Centre (Spain)
• ICT Technology Network Institute (Slovenia)
• Cyprus Computer Society (Cyprus)
• inno AG (Germany)
Contact (Coordinator):
Isabelle de Sutter | Systematic Paris Region | France
Phone: +33 169 816 579| Email: i.desutter@systematic-paris-region.org