CIT @ RSA & Silicon Valley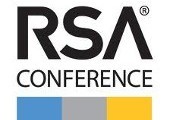 Published on: Tuesday, 08 March 2016
During the world's premier Cybersecurity conference – RSA 2016 in San Francisco, the Be Wiser project sponsored and supported several events, which allowed SMEs, policy makers and cluster practioners across the consortium an opportunity to connect with the technology, trends and people that will protect our digital world.


The Be Wiser project had the opportunity to support nine companies from Northern Ireland and France: Cyberlytic International Limited, Kainos Software, Seven Technologies Group, TrustInSoft, B-Secur, IDnomic, Brainwave, Wallix and Denyall to participate in a Silicon Valley tour, attend the RSA Conference and pitch at a CyberSecurity Techmeeting. Additionally a number of Be Wiser partners; Systematic Paris Region, CyberForum e.V., Eurecat, Invest Northern Ireland and Cork Institute of Technology's Dr John Hobbs joined the events to represent the consortium and share messages and lessons learnt with their regions.
On Monday the 29th February, the Be Wiser meets Silicon Valley week began with a full-day tour in Silicon Valley. The first stop was a visit to Stanford University which opened its doors on October 1st 1891. Participants were excited to see a replica of Google's first server rack, encased in LEGO, as their team considered it a more cost-efficient way to secure 10 × 4GB hard drives. The tour continued to Singularity University, where the vice-president Thomas Kriese, took us on a visit across the NASAPark to their Innovation Lab to showcase their current projects which seek to address humanity's grand challenges. Inspiringly, one of the main criteria of Singularity University's projects is to work with innovations that can positively affect and impact the lives of over 1 Billion people over 10 years. The afternoon focused on start-up incubators and accelerators, which shared some perspectives on the attitude differences between Europe and Silicon Valley at the German Accelerator and Plug&Play Tech Center. Where our hosts described their strategic ecosystems and programmes which included: startups, corporates investors and inventors in collaborative networks.
Dr Annalisa Zuccotti, Project Manager at CyberForum who co-ordinated and organised the Silicon Valley tour believes that "an understanding and appreciation of what the best in the world do; how they set their goals, and integrate innovation into their daily lives essentially raises the bar and inspires those of us lucky enough to attend. My hope is that this will provide further impacts through the Be Wiser project via knowledge exchange and collaboration."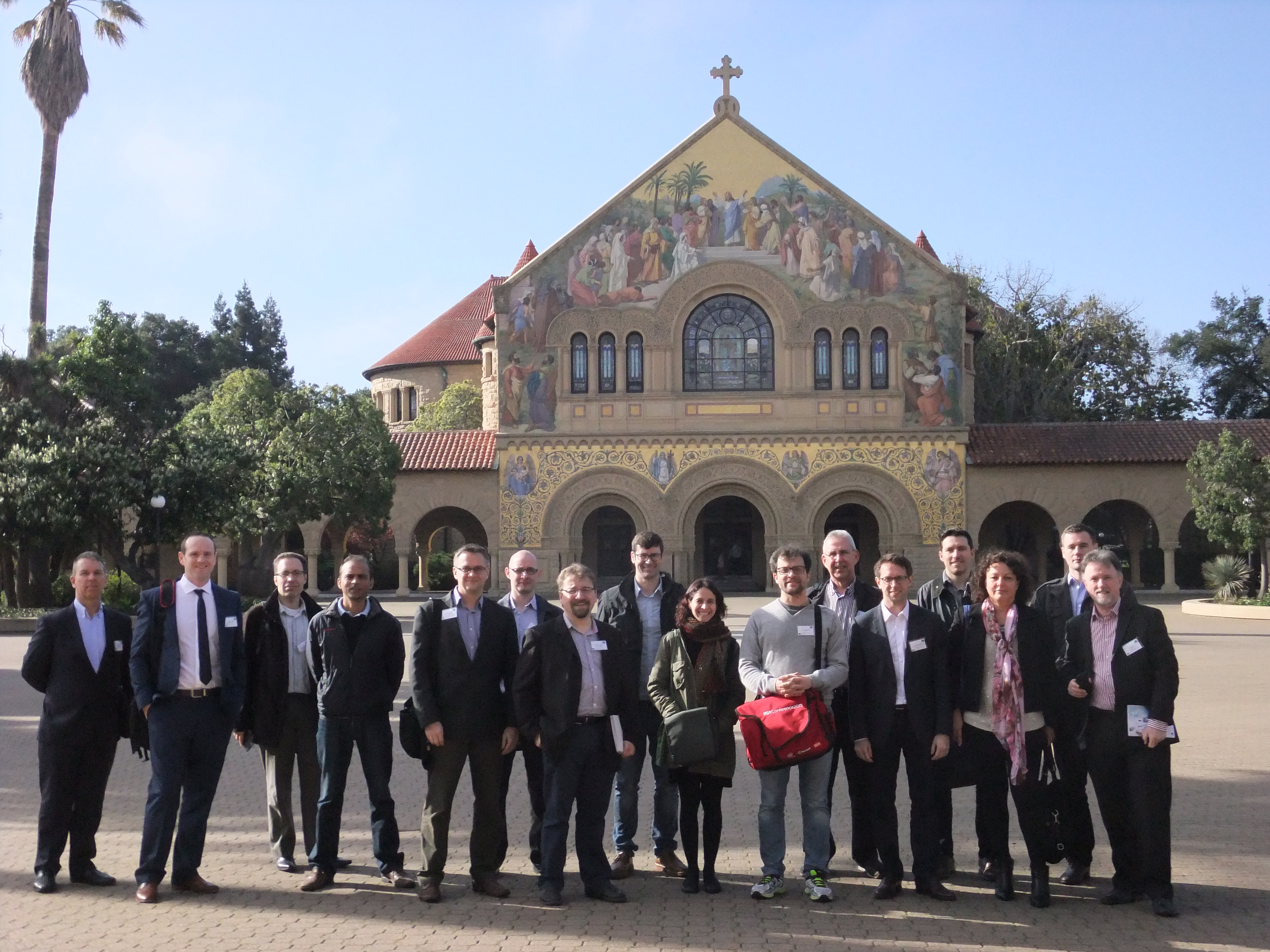 The Be Wiser group during a site visit to Stanford Univesity on the 29th February 2016.

On Wednesday the 2nd of March, the Be Wiser group gathered together for the CyberSecurity Techmeeting at the French Tech Hub. Insights and trends on CyberSecurity were provided by Jean-Marc Mommessin, from Cisco, Jason Hart from Gemalto and Danielle Kriz from Palo Alto Networks. The panel was followed by a three minutes-pitch of the Be Wiser group companies along with a number of US firms including: Vera, Lucent Sky, RiskIQ and WICKR. The rapid fire pitches triggered a fruitful and successful informal discussion among participants afterward, which hopefully will lead to the development of productive collaborations.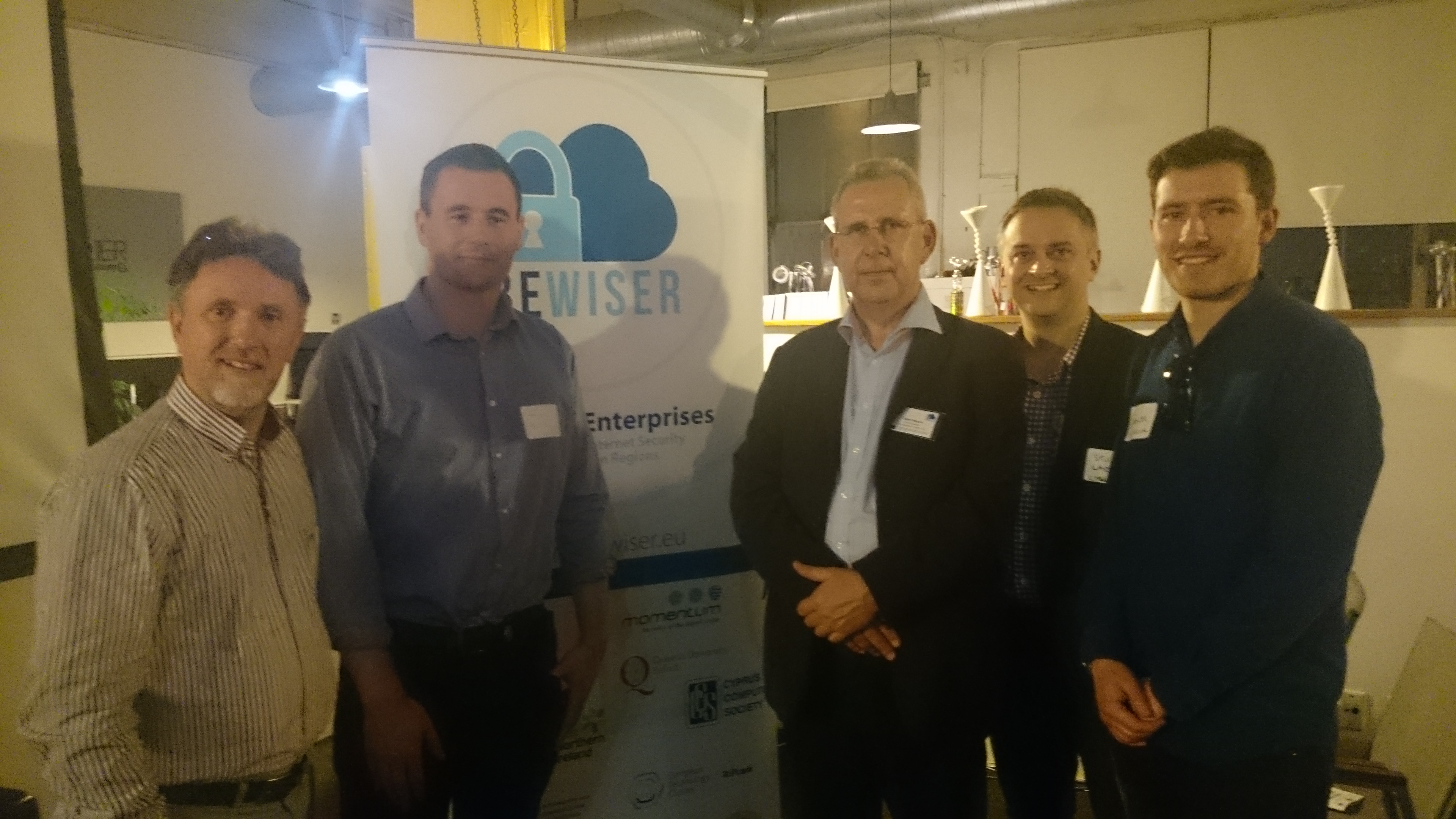 Pat Doyle, Invest Northern Ireland; Adrian Condon, B-Secur; Mark McGuire, Invest Northern Ireland; Stuart Laidlaw, Cyberlytic and Simon Rea, B-Secur during CyberSecurity Techmeeting at the French Tech Hub on the 2nd March 2016.

Beside the aforementioned Be Wiser Satellites events, the RSA Conference at the Moscone Center in San Francisco, covered the latest trends, technologies and threats of CyberSecurity: Defending against adversaries – Enterprise threats and risks; Emerging technologies – IoT, threat intelligence and security analytics; Government debates – Government surveillance and privacy regulations. Presentations and News can be found here: http://www.rsaconference.com & http://searchsecurity.techtarget.com.
Dr John Hobbs believes the Be Wiser meets Silicon Valley tour was a success as it provided value to the participant firms in three ways: "1) the silicon valley tour showcased the openness of accelerators and universities to work with industry and also the attitude towards innovation and collaboration in California, 2) the CyberSecurity Techmeeting allowed the firms to pitch to corporates, each other and interested VCs and SMEs from across Silicon Valley making valuable connections whilst doing so and 3) the RSA conference provided a plethora of contacts and connections for the firms as the world best and brightest in regard to CyberSecurity were in attendance."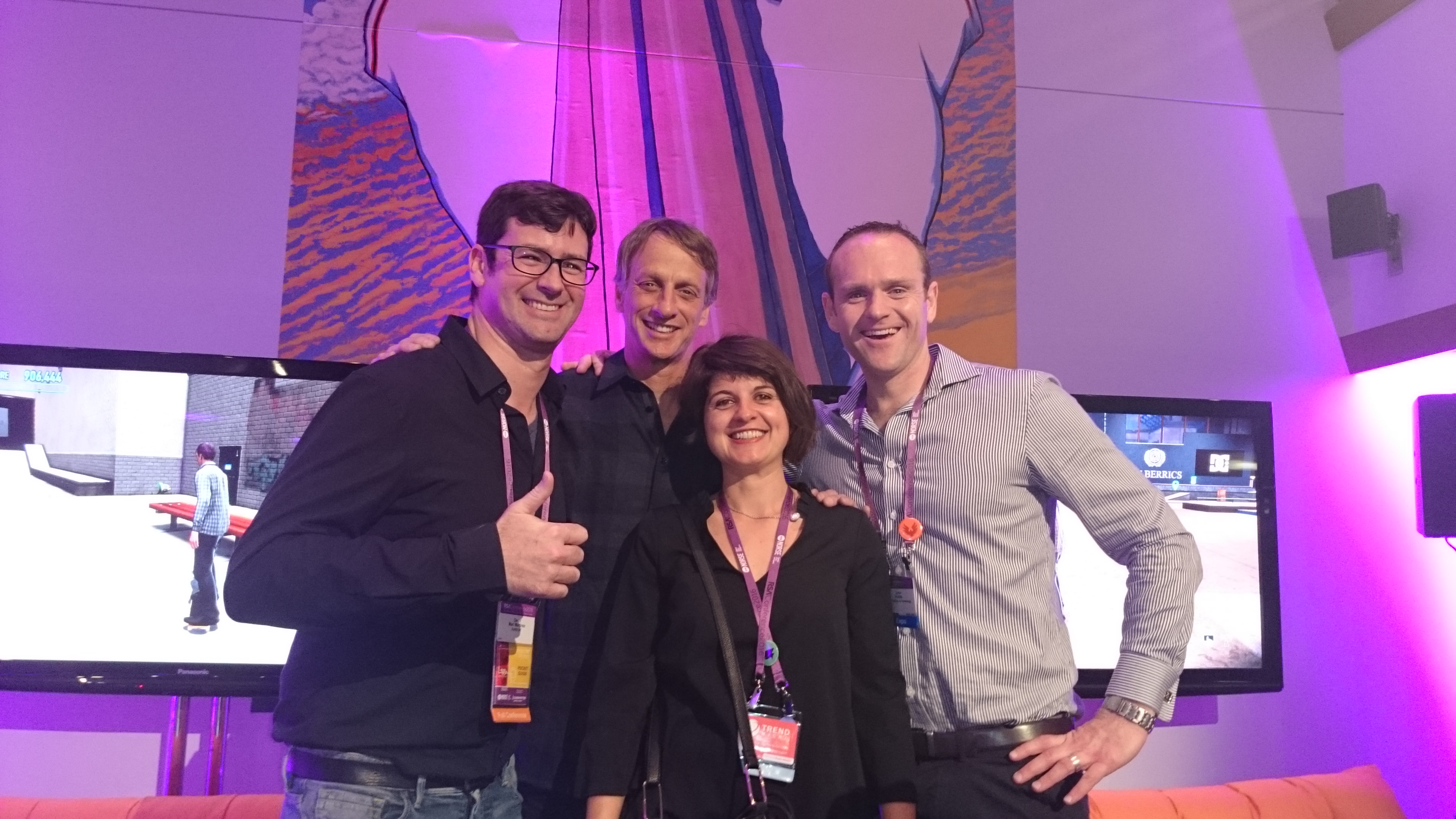 David Mari, Eurecat; Tony Hawk, Professional Skateboarder and Actor; Dr Annalisa Zuccotti, CyberForum and Dr John Hobbs during the CodeBreakers Networking Bash @ The RSA Conference on the 3rd March 2016.

An outline of the entire Be Wiser Meets Silicon Valley Tour can be downloaded here. This contains further information on the site visits and contact details for the firms who participated in the delegation!