CIT hosts "Engineering Your Future" Transition Year Programme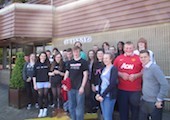 Published on: Tuesday, 04 June 2013
Secondary school students from around Cork took part in the first ever "Engineering Your Future" Transition Year Programme at Cork Institute of Technology. The event, promoted by Engineers Ireland's STEPS initiative, was a week-long, hands-on programme for Transition Year students and was designed to introduce them to the exciting and diverse world of Engineering.
Twenty six Secondary school students – ten girls and sixteen boys - attended the programme at CIT starting on Monday May 20th. As part of this week, students were "edu-tained" by our Ian O'Sullivan's demonstrating the chemical engineering principles behind making a cup of tea. Never has such a whimsical, common-place and seemingly simple activity been subjected to such a rigorous engineering analysis. Unsteady state heat transfer, heat balances, solid-liquid extraction, combined with safety and environmental concerns, were applied to show how engineers can model real situations with mathematical equations to predict and improve operations. MSD Brinny also helped to showcase chemical and biopharmaceutical engineering by kindly hosting a visit by the participants, showing how a world-class manufacturing facility can exist on the outskirts of a city.
Other exercises in CIT concerned energy, mechanical, electronic and structural engineering, and offered Transition Year students the opportunity to gain a better understanding of the skills required of engineers and the career opportunities available to qualified engineers.
Michael Loftus, Head of Faculty of Engineering & Science in CIT, said: 'This programme provides students with the opportunity to experience engineering innovation in operation in CIT and to see at first hand the environment which has produced European award-winning students for the past three years.
"Students are being given an opportunity to develop skills in areas such as critical thinking, problem solving and design, creativity, innovation and entrepreneurship. In addition they get a chance to visit CIT and view the excellent facilities and courses that the Institute has to offer. The programme encompasses a range of activities during the week, including industry visits, hands-on workshops, presentations and project work. Students also get the opportunity to meet with engineers, engineering graduates and staff members in the Faculty.
"Exposure to this type of experience to help inform their decision-making in relation to course selection in higher education. Better informed students will make better informed course and career choices, and this is an outcome that will be highly beneficial to them over time."