Evening lecture on Control Valves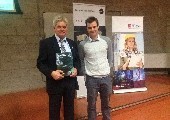 Published on: Monday, 20 October 2014
Mr. Ulrich Rolfs of SAMSON Controls Ltd. delivered a detiled lecture on Control Valves, as part of the region's Engineers Ireland lecture series. The lecture discussed:
Selection of control valve types: due to the variety of types of control valves like globe valves, butterfly valves, ball valves and rotary plug valve, the right selection becomes difficult. The selection criteria were identified and the pros and cons explained with recommendations for practical use.
Sizing of control valves: control valves sizing in accordance with DIN EN 60534 was discussed, identifying critical flow conditions such as cavitation.