CIT students win Engineers Ireland Chemical and Process Division Journal Article Competition Awards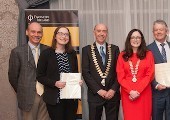 Published on: Wednesday, 09 May 2018
This year, for the first time, the Chemical and Process division of Engineers Ireland have organised a national competition for the best article published in the Engineers Journal by a chemical or bio-engineering student. The awards were presented by Dr. Kieran Feighan, President of Engineers Ireland.
There were three prize winners:
Clare Horgan, UCD, first prize
Rebecca Power, CIT
Naina Thomas, CIT

Cilian Ó Súilleabháin, Chemical Division, Rebecca Power, Dr. Kieran Feighan, President, Kate Lehane, Cork Region chair, Clare Horgan's parents and Naina Thomas's family and Rebecca Power's parents.
The first prize of €300 was sponsored by the Engineers Journal. There were two runners-up prizes of €100 each sponsored by the chemical and process division of Engineers Ireland. Thanks to David O'Riordan editor of the Engineers Journal for their support and sponsorship. Dr. Denis Ring of UCC adjudicated the competition. Thanks to the Cork Region committee for incorporating the award ceremony as part of their conferring of titles and President's lecture evening.
The criteria for the competition are: the article must be by an undergraduate student in the field of chemical or bio-engineering; it must be published during the calendar year 2017; it must be of general interest to the members, be of a high academic standard, well written and well laid out including diagrams.
This year the articles related to students' final year research projects. The articles involve biotechnology, distillation and tableting, showing some of the breadth of topics involved in the discipline.
Clare Horgan's article was titled "A mathematical model for GS-CHO cell culture in a perfusion bioreactor with spent media recirculation: technical & economic feasibility analysis". This relates to predicting the performance of a continuous bio-reactor. Clare is working in San Francisco as a solar analyst with Luminalt. Her father John, an engineer, accepted the prize on her behalf.
The title of Rebecca Power's article was "Optimisation of film-coating mixing for vessel scale-up". Rebecca undertook her research project with MSD in Clonmel with whom she is working on their Merck Manufacturing Leadership Development Program.
Naina Thomas, wrote an article titled "Optimisation of a multi-component distillation column in Whitegate Refinery". Naina is currently undertaking social work in Uganda. Her brother Noble accepted the award on her behalf. Thanks to Irving Oil for facilitating the publication of the article.
Further information is available in the Engineers Journal at this link.