CIT appoints first Entrepreneur in Residence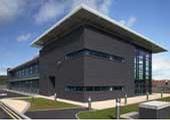 Published on: Monday, 05 July 2010
Cork Institute of Technology is delighted to announce the appointment of its first ever Entrepreneur in Residence. Kieran Moynihan, a dynamic and experienced entrepreneur and executive with an outstanding track record in the technology sector, will take up the role in September and his appointment marks a significant milestone in terms of CIT's Entrepreneurship and Innovation activity and further strengthens CIT's commitment to innovation.

| | |
| --- | --- |
| | Dr Brendan Murphy, President, CIT; Kieran Moynihan, Entrepreneur in Residence, CIT; Carole O'Leary, Industrial Liaison Office, CIT; Ger O'Mahoney, President, Cork Chamber; and Michael Delaney, VP for Development, CIT; |
CIT's Entrepreneur in Residence will be based at the Rubicon Centre and on the main campus and will be available to undergraduates, post grads, staff and CIT Enterprise Development Programmes. Central to the role will be further raising the awareness of entrepreneurship in general across CIT; identifying key market and technology trends and areas which are receiving substantial investment financing, as well as a series of Guest Lectures to undergraduates.
Kieran Moynihan co-founded Comnitel, a telecoms software company in 1999 and led the company as CEO from initial start-up through a 30 million-dollar series of fundraising with leading international venture capitalists.
After completing the CIT led Genesis Enterprise Programme in 1999/2000, Comnitel merged with Metrica and WatchMark to form Vallent, a 450 person global company with annual revenues of approx. $65 million.
From 2003 – 2007 Kieran was Chief Technology Officer for Vallent driving the company's product and market strategy up to the acquisition of the company by IBM in 2007. He then took on the role of Vice President and CTO for Telecoms for the IBM Tivoli division and has also been a key strategist & visionary for IBM's overall telecoms business worldwide. He has extensive M&A experience both on the acquirer and acquired side.
Now working as a management consultant specialising in providing support to early-stage and mid-size companies in the area of company strategy, go-to-market, fundraising, executive coaching, M&A and exit strategies, Kieran said that he was "honoured and excited" to take on his new role to help driving entrepreneurship at CIT and the broader region.
"We are at a pivotal stage in driving our recovery in Ireland and indigenous start-ups will be a fundamental factor of our future success. The leveraging by CIT of the entrepreneurship-in-residence model, which has been highly successful in the USA, is very complementary to the vision CIT has demonstrated in its partnership with Enterprise Ireland in the highly successful Genesis start-up programme. I am very passionate about inspiring strong growth in entrepreneurship across the students and staff at CIT.
I have a very hands-on approach and want to make this very practical – key areas will be the support of the overall commercialisation process in CIT including reviewing current commercialisation and patent activity as well as providing a friendly and accessible sounding board for students and staff to test start-up business ideas."
CIT President, Dr Brendan Murphy, warmly welcomed the appointment of Kieran Moynihan as CIT's Entrepreneur in Residence.
"This appointment of CIT's first ever Entrepreneur in Residence underlines the commitment of the Institute to encourage the overall level of entrepreneurship in CIT across students, staff, and our enterprise development programme activity. By embedding a successful entrepreneur on campus, CIT will benefit from his knowledge and experience and he will provide a role model for staff and students to start their own businesses.
Kieran has had a very impressive career to date – he is a dynamic, experienced entrepreneur with an outstanding track record over his 19-year career in technology businesses. I know that the wider economy in Cork will benefit from Kieran's drive and determination to raise the bar in terms of entrepreneurship, both within CIT and in the region generally. We expect him to push the boundaries and challenge existing thinking in CIT and among companies in the Rubicon Centre."
The Cork Chamber of Commerce, Enterprise Ireland and Cork City and County Enterprise Boards have expressed their strong support for this initiative. I know that both Kieran and CIT look forward to working with them to drive enterprise development in the region.
Kieran will be a huge asset and we are all looking forward to working with him".
CIT has consistently striven to put entrepreneurship at the forefront through its support for events such as the CIT Prize for Innovation, sponsored by the Cork County and City Enterprise Boards which has a prize fund of €10,000. This academic year saw CIT's first Enterprise Intern starting on campus with a view to promoting entrepreneurial activity among the student population. A second Enterprise Intern will be starting in September and will be based in the Rubicon Centre.
This September also sees the introduction at CIT of an MBS Stream in Business, Innovation & Enterprise to complement the existing MBS in Business.
The Genesis Enterprise Programme, headquartered at the Rubicon Centre within CIT, was runner-up in the "Promoting the Entrepreneurial Spirit" category in the European Enterprise Awards in Madrid. Now in its fourteenth year, Genesis is a 12 month rapid incubation programme to provide support to entrepreneurs establishing knowledge based start-ups in the South West region of Ireland through business training, coaching, mentoring, facilities and peer learning. Kieran was presented with the First Genesis Alumni award in 2008 on the occasion of the 10th anniversary of the programme.