BCRI Symposium 2010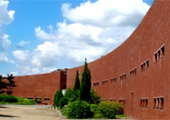 Published on: Monday, 30 August 2010
On September 2nd & 3rd, the Department of Civil, Structural and Environmental Engineering, CIT and the Department of Civil and Environmental Engineering, UCC, host the 2010 joint symposium on:
• Bridge and Infrastructure Research in Ireland BRI '10
• Concrete Research in Ireland CRI '10

State of the art research in these areas will be complemented by presentations from leading keynote speakers. This event will present practitioners and researchers with an opportunity for dialogue on topics of mutual interest. Until 2008, these events have been held separately.

The first Symposium on Bridge Engineering Research in Ireland was held in 2002 and it has since been a biennial event. In 2006, BRI was expanded to include topics relating to all aspects of transport infrastructure. The original objective of the event to provide bridge researchers and practicing engineers with a forum to meet and discuss current research focuses and design/construction practice was maintained, while including experts from all areas of transport infrastructure.

The first Colloquium on Concrete Research in Ireland was held in UCD in 1995 and has been held regularly ever since. The objective is to provide a forum for young and experienced researchers and practitioners to present and discuss their research work into all aspects of concrete.

In 2008, the first joint event was successfully held in NUI, Galway. This year, the tradition of the joint symposium will be upheld. The joint symposium will be co-hosted by UCC and CIT and it will be the first time either symposium is held in Cork. UCC and CIT are delighted to co-host the event. Both departments have long and distinguished traditions in Civil and Structural Engineering education and research.
Researchers from CIT, UCC, TCD, UCD, NUIG, DIT, AIT & QUB will present at the two day symposium; day 1 will be held in UCC (Thursday 2nd September) and day 2 in CIT (Friday 3rd September).
For further details of the symposium please see the event website at www.bcri.ie