13th Irish Academy of Management Conference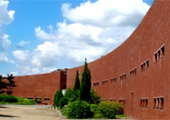 Published on: Thursday, 26 August 2010
The School of Business at Cork Institute of Technology will host the "Irish Academy of Management Annual Conference" from 1st - 3rd September.
CIT will welcome approximately 150 academics, both national and international, who lecture and research in the field of management. The theme of the conference, 'Renewing the Management Research Mandate' is particularly relevant due to the economic climate in which we now live. Chaired by Dr Margaret Linehan, Lecturer in CIT's School of Business, the conference will facilitate an exchange of ideas amongst professionals across a broad range of disciplines.
The two main speakers are Professor Jean Bartunek, Professor of Organisational Studies, Boston College, USA and Professor Frank Horwitz, Director Cranfield School of Management, Cranfield University, in the UK.
Professor Bartunek is a past president and fellow of the Academy of Management and in 2009 she won the Academy of Management's Career Distinguished Service Award. From 2008 to 2010 she is visiting international fellow at the Advanced Institute for Management Research in the UK. Jean has published over 100 journal articles and book chapters, as well as five books. Her primary research interests focus around organizational change and academic-practitioner relationships.
Professor Horwitz was, prior to joining the faculty at Cranfield, Director of the Graduate School of Business at the University of Cape Town. He specialises in human resources management, organisation change and industrial relations. His research interests include human capital strategies, workplace flexibility and high performance work practices, leading and managing knowledge workers, organisational redesign, performance incentives, mergers and acquisitions, cross cultural and international HRM, employment discrimination and diversity. He has published over 90-refereed articles; many book chapters and co-authored four books.
For more details on the IAM Conference 2010