Make the Right Start to your Business - Develop with the Genesis Enterprise Programme
Published on: Monday, 08 March 2010
Now Recruiting New Business Entrepreneurs for the 2010/11 Genesis Enterprise Programme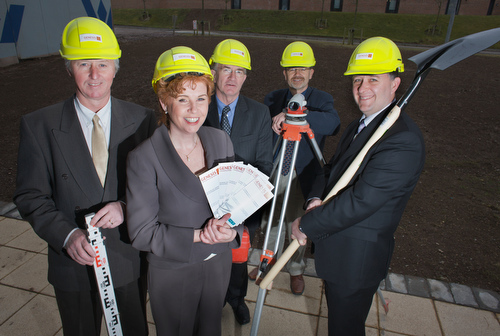 Genesis is delighted to announce that it has now commenced recruitment for the 20010/11 Genesis Enterprise Programme which will start in May 2010. Genesis is a 12 month full time incubation programme that provides a comprehensive range of supports to innovative, knowledge-intensive start-ups to help them grow and develop into highly successful companies capable of competing in global markets.

Pictured above (L-R) Mort O'Connor, Enterprise Ireland; Denise Kennedy, Genesis; Michael Delaney, VP for Development, CIT; Brendan Cremen, University College Cork; and Sean O'Sullivan, Cork City & County Enterprise Boards.
When it comes to starting or expanding your business, it's usually not the idea that fails but the execution that wins. To survive and win in today's world, Irish start ups need to be expert not just in the idea or product but in designing, developing and executing the business around the idea. That's where the highly successful Genesis Enterprise Programme comes in.
Now in its 12th year, Genesis has helped over 180 entrepreneurs get their businesses off the ground. Genesis has a proven track record of fostering the long term success of start ups. More that 70% of the start-up businesses emerging from the Genesis programme are in operation to-day. They employ over twelve hundred people in the South West region of Ireland. In excess of 50% of the businesses are trading internationally. 40 businesses have gone on to be designated "High Potential Start Ups" by Enterprise Ireland.
Well known businesses that started life in Genesis include Abtran, Amocom, Crest Solutions, Cully & Sully, Enbio, Yougetitback.com, Selatra, and Pulse Learning. The emphasis of Genesis has always been to support high value, knowledge based Irish owned businesses in the region that are creating some intellectual property (whether product or service based) and have the potential to scale into export markets and create employment in the region. Genesis works with start ups across a diversity of sectors including energy, food, photonics, information technology, mechanical engineering, medical devices, biotechnology, machine vision and many others.
The Genesis business incubation programme equips participants with the practical skills, expertise, contact networks and tools necessary to develop an idea into a solid real business. Along the way, they learn how talk to the market, raise investment capital, and launch the product/service in the marketplace. Specific supports include:
• Free professional office facilities in an entrepreneurial incubation environment in the Rubicon Centre (
www.rubiconcentre.ie
)
• Information & access to sources of funding in pursuing your business
• Intensive Management Development Training & Workshops
• A personal mentor with significant sectoral knowledge, contacts and business experience
• 1:1 Expert Clinics in the areas of strategy, finance and marketing.
• Individual business coaching provided by experienced programme manager
• Networking with other entrepreneurs in Genesis and across its alumni network.
• Access the staff & product/business development facilities of the GEP Programme Partners which include Cork Institute of Technology, University College Cork, Enterprise Ireland, the Enterprise Boards, Údarás Na Gaeltachta, and Cork BIC.
The Programme is funded by the Department of Education and Science and the Department of Enterprise Trade and Employment under the National Development Plan 2007 – 2013.
Applications for the new 2010/11 Genesis Enterprise Programme, which commences in May 2010, can be made online at
www.gep.ie
.
The closing date for applications is Friday 26th March 2010.
For an informal and confidential discussion of your business idea and eligibility, please contact:
Denise Kennedy
Programme Manager, Genesis Enterprise Programme
The Rubicon Centre, CIT Campus, Bishopstown, Cork
Direct: 353.21.4928907 Mobile: 353.87.2218562
dkennedy@gep.ie
www.gep.ie