CIT receives Award for Promoting Innovation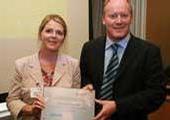 Published on: Wednesday, 01 September 2010
Over 1,000 small Irish firms have used a €5,000 Government innovation voucher which allows them to link with college researchers to solve business and technical problems, according to the Minister for Science, Technology and Innovation, Conor Lenihan, TD.
Minister Lenihan marked the 1,000th innovation voucher milestone at an event in the Government's indigenous job creation agency, Enterprise Ireland, in Dublin, where he presented awards to CIT and other top knowledge providers.
The innovation voucher enables small firms to access skills, knowledge and specialist facilities in Government-funded research institutions.
Small Irish firms are now working with research teams in more than 41 research institutions - or so-called knowledge providers - across the island. Cork Institute of Technology has completed 58 projects.
Minister Lenihan said the vouchers were an important early bridge between firms and academic researchers: "The scheme has helped small firms to explore how they can play their part in building the knowledge economy.
'The vouchers have brought firms and researchers together in finding innovative ways to overcome challenges and give products a more competitive and commercial edge for the marketplace.
The knowledge providers offer valuable advice and expertise to small Irish firms that want to scale their output and compete for business by adopting a more innovative approach," said Minister Lenihan.
"Enterprise Ireland is working with all the participating knowledge providers to ensure that small businesses in receipt of an innovation voucher get access to first-class human resources and equipment in 41 locations around Ireland."
To receive an innovation voucher, a firm's project must require an innovative solution, provide additional value for the company and have ongoing benefits. The next call for applications opens on 1 October. See innovationvouchers.ie