CIT Wandesford Quay Gallery hosts Exhibition of Frank Phelan and Donal Moloney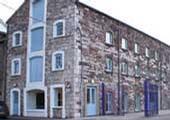 Published on: Wednesday, 15 September 2010
Wednesday 15th September > Saturday 2nd October
Opening times 10am - 6pm Wednesday to Saturday, with a specially extended opening until 11pm on Culture Night, Friday 24th September.
The exhibition is free and open to the public.
| | |
| --- | --- |
| | Born in Dublin, Frank Phelan worked as a draughts before emigrating to Toronto in 1953 where he worked in various jobs and attended art classes at the Doon School of Art in Ontario. He then returned to Ireland and subsequently London, living in a house with the sculptor Frank Morris. During this period he was a stagehand at the famous Stratford East Theatre, designed sets for Unity Theatre and Open Space Theatre, London. |
Invited by Nancy Wynne Jones to stay in her house near Penzance as one of the artists in residence, he met, and became friends with, Tony O'Malley who introduced him to other artists including Roger Hilton, Bryan Wynter and Patrick Heron. He had his first one-man show at the Traverse Theatre in Edinburgh curated by Richard Demarco, in what turned out to be a very fruitful partnership. Frank was part of the Demarco inaugural exhibition at his new gallery and this was followed by another one-man show. His work was included in an exhibition of contemporary British Painting at the Museum Of Modern ART Warsaw. His work is also included in the collection of the OPW in Ireland.
| | |
| --- | --- |
| | Donal Moloney was born in Cork in 1984 and completed his B.A. in Fine Art at CIT Crawford College of Art and Design, Cork in 2007. He was awarded the CIT Registrar's Prize, a Post-Graduate studio bursary at the Backwater Artist Studios and a UCC purchase prize. |
In 2008, Donal exhibited in numerous group shows including ''This Rather Than," in Galway Arts Centre and "Selected works from the University College Cork Collection", in West Cork Arts Centre and was awarded an Individual Artist's Bursary from Cork City Council Arts Office.
Donal completed a Masters in Fine Art at the Slade School of Fine Art, London (Distinction) in 2010. Whilst there he co-edited the Slade School of Fine Art Master's Print Publication and was awarded the Andor Scholarship. He currently lives and works in London.