Many Moon Celebrations with CIT Blackrock Castle Observatory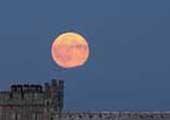 Published on: Monday, 13 September 2010
This Saturday September 18 is a moon filled day with lunar celebrations taking place all over the world including Cork and Dundrum, Tipperary in association with CIT Blackrock Castle Observatory.
The Moon Festival is the 2nd largest festival of the Chinese calendar, celebrated on the 15th day of the 8th lunar month when the moon is most bright. Families gather to look up at the moon with lanterns lighting and enjoy moon cakes, the traditional food, while celebrating that families are all looking at one moon no matter where they are.
StarDome, Blackrock Castle's portable planetarium, will be travelling to the Moon Festival in Dundrum, Tipperary, a Chinese cultural event presented by the ICCG , the Irish-Chinese Contact Group for families with children adopted from China.

Annabel Golden, mum of Moya 7 and Kayla O'Riordain 9, her adopted Chinese daughters, says 'We are delighted that we can share the wonders of the night sky by day at the Moon Festival with Blackrock Castle's StarDome. The Moon Festival gives Irish-Chinese families a chance to come together and share this universal aspect of our culture'.
Saturday Sept 18 also marks the first ever International Observe the Moon Night. Join astronomers at CIT Blackrock Castle Observatory from 8-9pm who will guide your moon viewing as you take part in an ancient moon worship ritual dating back some 3,000 years to China's Shang Dynasty.
Denis Walsh > Astronomical Use of Cameras
Lead moon viewing astronomer Denis Walsh is presently showing a photography exhibition, Astronomical Use of Cameras, at Blackrock Castle Observatory. Denis Walsh is a scientist who has for many years been taking photographs of the moon, night sky, landscapes and his dog. He started teaching astronomy with Blackrock Castle Observatory two years ago, and has since honed his skill with long exposure and telephoto work. Astronomical telescopes have proved phenomenal in the field of photography, as cameras have in astronomy. Some examples of the results can be seen at the exhibit, educationally themed and technically detailed, as well as being aesthetically uplifting. The exhibit runs from September 3 to November 4.
Note Cosmos at the Castle closes at 5pm. The Castle Italian Bar & Restaurant is closed for essential maintenance from Sept 16-23 including Saturday Sept 18.
---
2001: A Space Odyssey with stargazing at Movies by Moonlight
Movies by Moonlight is a film club that offers screenings with guided stargazing on the last Saturday of every month at Blackrock Castle Observatory. In keeping with the theme of astronomy, film club members enjoy the world's most spectacular sci-fi films. Set in the scenic surrounds of a 16th century Castle turned Science Observatory and facilitated by local astronomers this is a film club with a difference.
The next Movies by Moonlight film, which will screen on September 25th at 8pm, is Stanley Kubrick's 1968 science fiction film 2001: A Space Odyssey. In 2001, a four-million-year-old black monolith is discovered on the moon, and the government sends a team of scientists on a fact-finding mission while hiding the truth from the public. Later, another team is sent to Jupiter in a ship controlled by the perfect HAL 9000 computer to further investigate the giant object--but something goes terribly wrong.
Stargazing takes place after the screening.
Movies by Moonlight Film Club operates as a Blackrock Castle Observatory member's event.
Annual membership can be purchased at €30.00.
€5.00 is the admission on the night, pre-booking is essential.
Members can bring a guest along for the show. Non member tickets are €7.50

The Castle Bar and Trattoria are offering Movie Meal Deals. Pizza or pasta and wine or beer for €15.00 will be served pre show only.