CIT Blackrock Castle Observatory News Up Date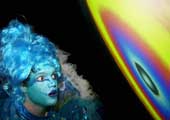 Published on: Friday, 08 October 2010
Please click here to download Programme of Events
"In the universe there are things that are known, and things that are unknown, and in between, there are doors"
William Blake, Poet (1757-1822)

When the idea of converting Blackrock Castle into a science centre was conceived in 2002, Ireland was a very different place. The economy seemed to be on an inexorable path upwards and our futures were to be assured through a cultural change to a knowledge-based society. The purpose and vision of Blackrock Castle Observatory – "to affect positive change in attitudes toward science, engineering and technology in Ireland" – fitted in very well with our national vision.
Some basic statistics
Since opening its doors to the public in August 2007, BCO has welcomed over 55,000 visitors to its exhibition. An additional 75,000 people have participated in BCO outreach activities into schools, through students (particularly transition year pupils making career decisions), parents and teachers, industry, the general public and community groups, with many thousands more participants becoming involved at national events. BCO has been featured in local and international print media, radio and TV. Monthly visitors to the BCO website (www.bco.ie) have risen by 2371% to 5000 per month between August 2007 and October 2009.
The Observatory has hosted 10 CIT students completing their third- and fourth-year projects, 12 Erasmus and intern students and 9 Transition Year students. BCO trading as Cosmos Education Ltd employs 3 full time and 5 part time staff members.
The Exhibition
At the heart of the BCO experience is the internationally award-winning exhibition "Cosmos at the Castle", designed by the Dublin-based company Martello Media, with broadcaster Leo Enright acting as the Scientific Consultant. Content was provided by CIT's Astronomy and Instrumentation Group; they are now housed at the Castle. BCO is the first, and only, Irish-designed visitor attraction to receive a THEA 'Award for Outstanding Achievement' from TEA, the world association for themed attractions. The THEA award was presented to members of BCO at the THEA annual awards ceremony in Los Angeles in March 2008.

The exhibition has also received five national awards - a Local Government Excellence in Economic Development Award, two Digital Media Awards, the IDI Ideas 2008 and Cork's Better Building Award 2008 Heritage and Conservation award.